Looking for the best free photo editing apps for aesthetic pictures? Maybe you're curating an aesthetic Instagram feed or just want to create better looking photos for your website. Either way, you've come to the right place! Read on for the best free photo editing apps and design tools to create aesthetic pictures and photos.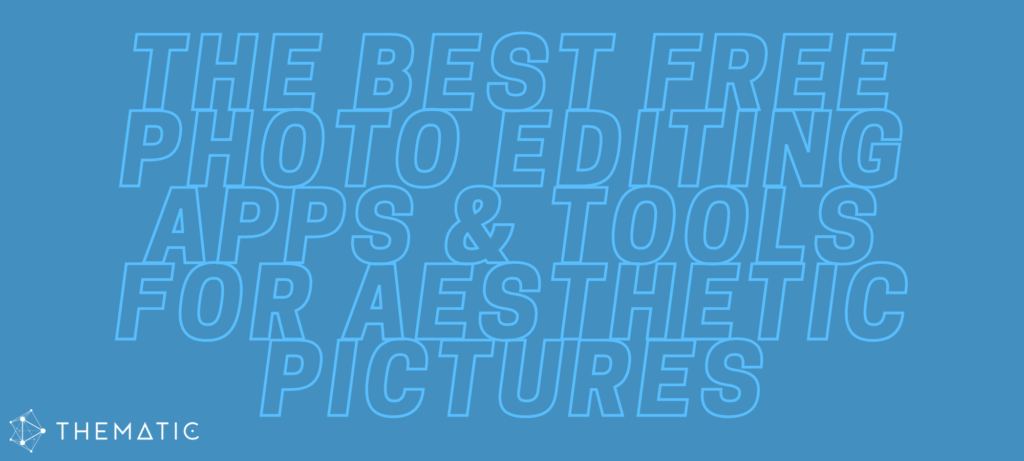 Our top 10 recommendations of photo editing apps for aesthetic pictures and videos:
Adobe Lightroom Mobile App & Presets: The Best for One-Click Aesthetic Pictures
Part of the Adobe Creative Suite, Lightroom is Adobe's professional, yet easy-to-use photo editing software. Lightroom is a powerful photo editing app that utilizes shareable presets that allow creators to easily share their photo aesthetic.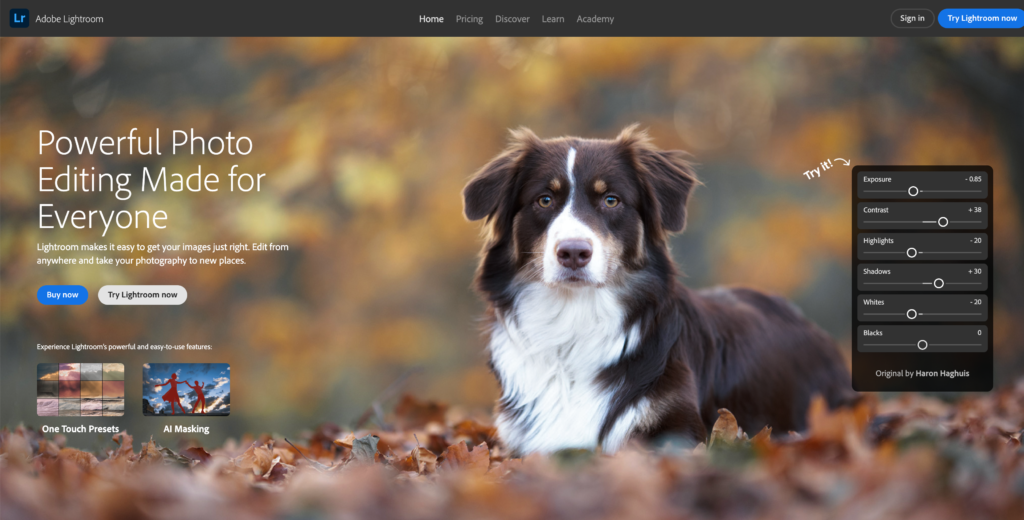 Lightroom presets are essentially a set of saved photo edits that you can apply to your photo in one simple click. Presets have become super popular with creators as it allows anyone to share their personal photo aesthetic with others. You'll find popular photography creators (like Peter McKinnon) selling their personal Lightroom presets online so that anyone can use their photo aesthetic on their own photos.
Or if you prefer to customize each photo individually, Adobe Lightroom has every photo editing option you can ever want – from retouching and AI masking to exposure and highlights. They really do have it all.
And best of all, between Adobe's Lightroom Academy and the YouTube photography community, there are tons of resources and tutorials on how to use Lightroom and create the most aesthetic pictures. This one is highly recommended.
You can access Adobe Lightroom for free via their mobile app, or test out their full version with a free trial. And many Lightroom presets are free to download.
Colorcinch: The Best to Transform Your Photos into Aesthetic Artwork
Colorcinch is a powerful web-based design and photo editing app perfect for creating content, social media campaigns, and more! You can glitz up your photos with a rich list of modern, unique filters, artistic effects, masks, and overlays. Plus, you can create stunning visuals with its collection of premium vector icons and graphics.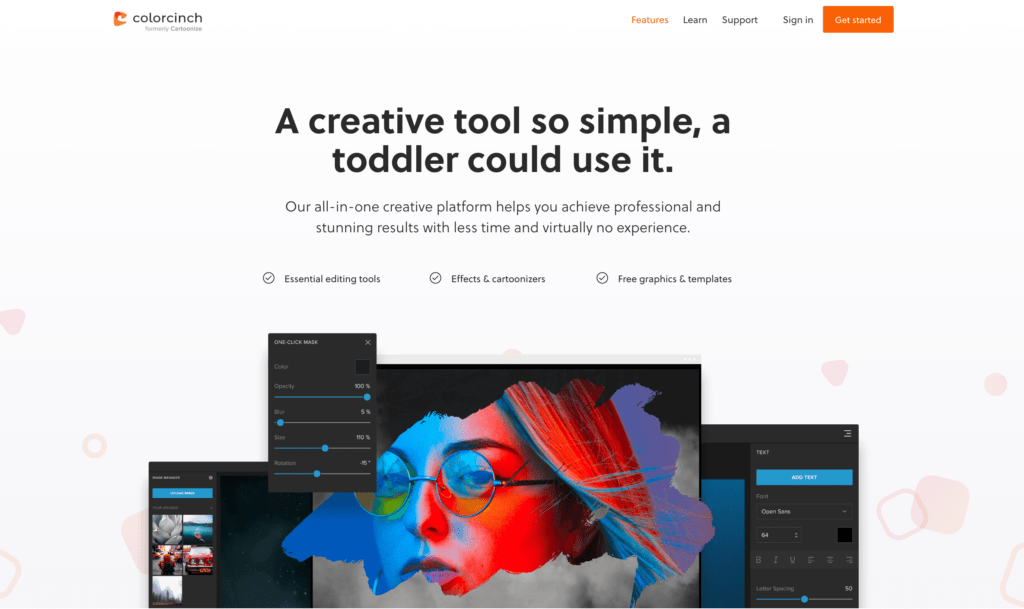 When editing in Colorcinch, it's all intuitive. Thanks to its user-friendly interface, you don't have to spend time on tutorials. Transforming photos and graphics into impactful visual content is just as simple as drag and drop. So, it's a great tool for content creators, photographers, entrepreneurs, and hobbyists.
The best thing is that it's free and no sign up is required. 😏
Hop on to Colorcinch and start creating your work of art! Colorcinch is available for free on your browser.
Canva: The Best Overall Free Photo Editing App
Canva is one of the most popular free design and photo editing app out there. It's an all-in-one design solution for creating all types of visual assets – like your YouTube thumbnails, Instagram stories, YouTube channel art, social media posts, and so much more!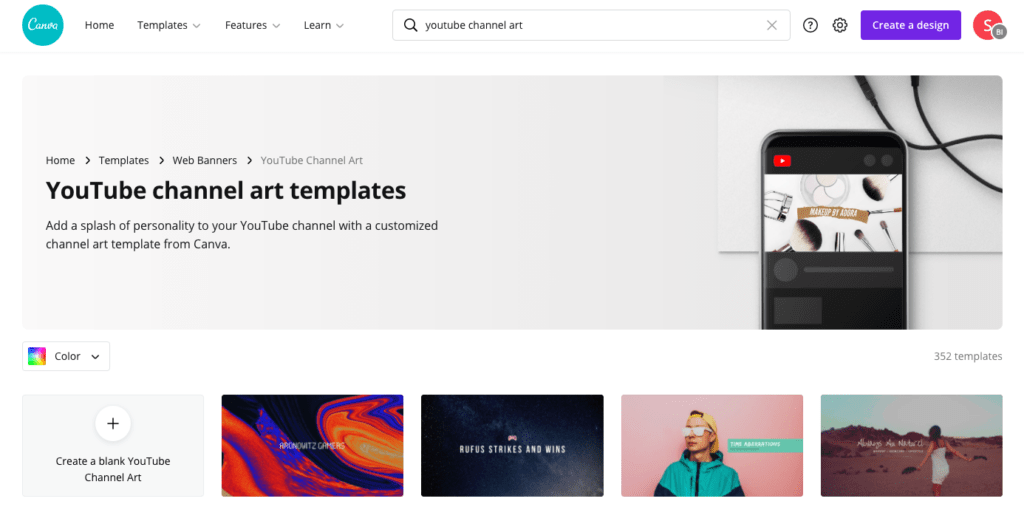 Whether you need it for your YouTube channel or your other social media accounts, it's the perfect design tool for all types of content creators, even if you're just starting out!
For example, YouTube thumbnails are the very first thing viewers see when deciding if they want to watch your video or not. That's why it's super important to have a well-designed thumbnail that also reflects your video content. Think about it – would you want to watch a video with a thumbnail that looks boring?
With Canva, designing YouTube thumbnails is super easy!
Creator Marielou Mandl shows how to easily create great YouTube thumbnails using Canva
You can easily add color, texts, upload your own images, and use their free graphics to create a visually appealing thumbnail for your YouTube video. In addition, they even provide the file templates and dimensions so that your thumbnails and art are all the right size. Pretty awesome, right?
In short, Canva provides creators with a ton of great design templates and features that will help you take your aesthetic pictures to the next level. And the fact that it is free, makes it even better.
Canva is available for free on your browser, on your desktop, or in the app stores.
Fotor: The Best for Social Media Templates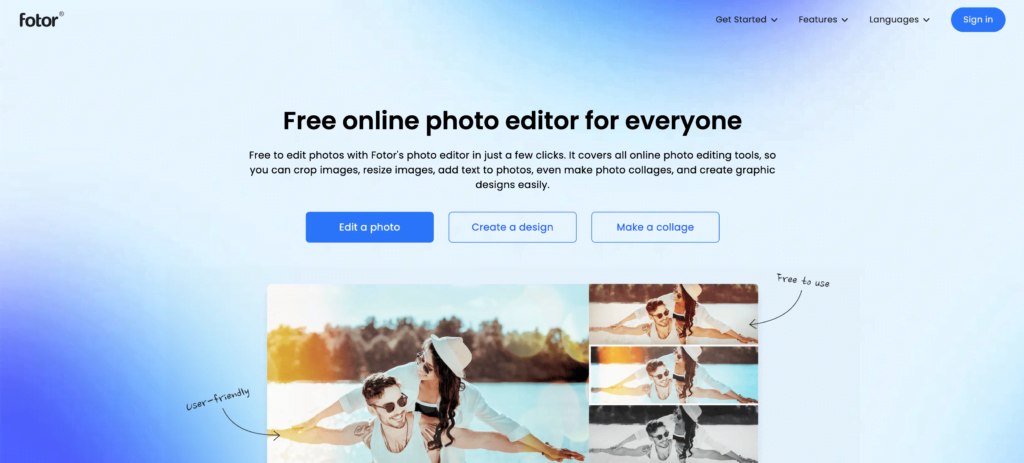 Fotor is an easy-to-use, free online picture editor. You can unleash your inner artist with thousands of preset templates. It provides YouTube thumbnail, YouTube video end cover, and YouTube channel art templates. And also templates for other social media platforms (Instagram, Twitter, Pinterest, Tumblr, Snapchat, Twitch, and LinkedIn).
Aesthetic pictures are vital to capturing attention on social networking accounts, blogs, and marketing. Fotor helps make professional photos in a few minutes.
Easily make numerous graphics based on the pre-made templates by just dragging and dropping the text, elements, background, and color. Other features include background remover and replacement, cropping and straightening, one-click color enhancement, and photograph collage are also worth trying.
VSCO: The Best for Sharing Aesthetic Photos
I'm sure you've already heard of VSCO, probably the most well-know aesthetic pictures app and community. But if you haven't, you should definitely check it out!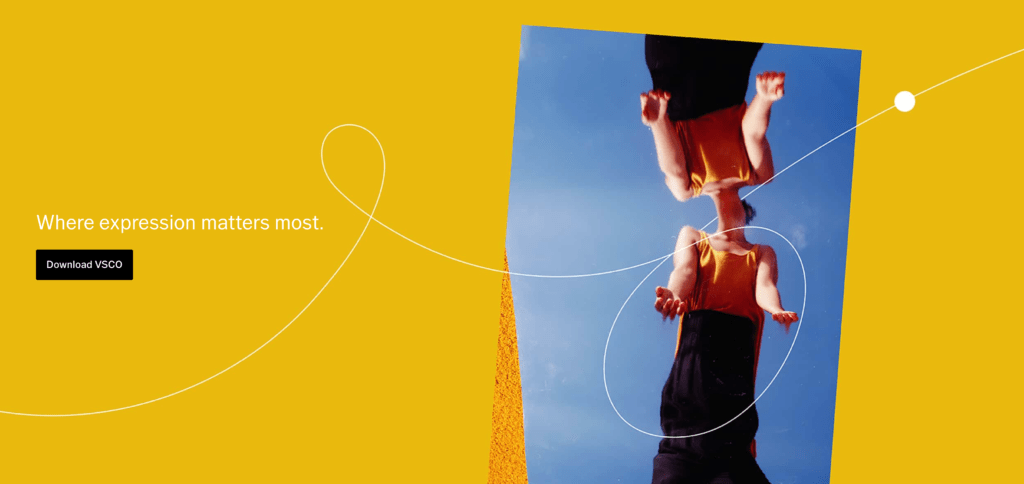 VSCO is the go-to app when you want aesthetic pictures and filters. They provide the best collection of present filters to enhance your photos. You can give your pictures that classic retro or vintage look, or find something a bit more modern. It's up to you! You can even create your own filters by using their editing tools to make your photos totally unique.
Once you've got that VSCO aesthetic and want to take it to the next level, you can start a subscription for the VSCO Membership. This allows you access to tons more presets (like over 200) and advanced video and photo editing apps. Pretty awesome.
One of our favorite things about VSCO is their photographer community. So if you're looking for inspiring content from other creators, you'll definitely want to check it out.
VSCO is available for free on the Apple and Google Play app stores.
Faded: The Best for Free Aesthetic Filters
We've been used the Faded photo editing app on iPhone to create our aesthetic pictures for years now. So it's time you check it out, too!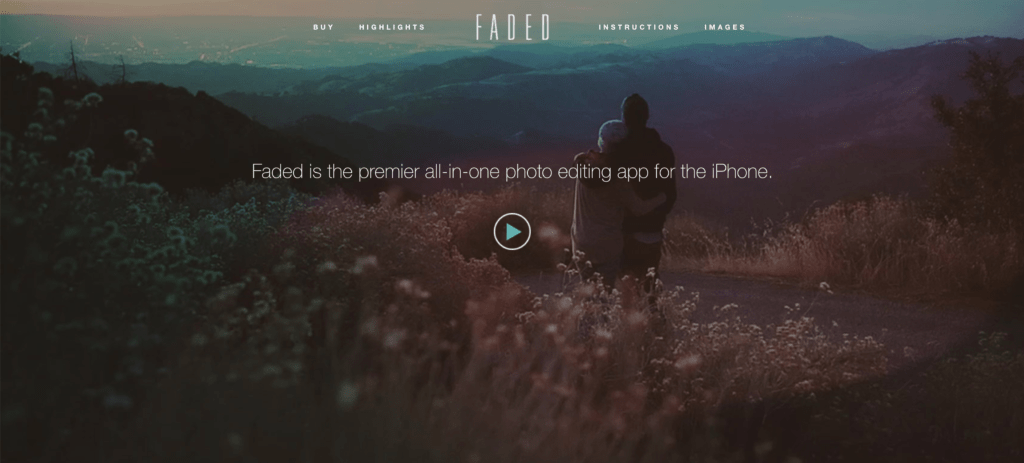 You can tell from their website homepage that Faded will help you make some epic aesthetic pictures.
It is totally free to use and comes with access to over 30 aesthetic filters to get you started. You can unlock even more on their premium level.
All of Faded's photo editing filters are super easy to apply, and you can even create and save your own using their editing tools. They also provide additional features like photo textures and light leaks, to really make your photos pop.
Faded is also beginner-friendly because it's so easy to use. So if you're just getting started with photo editing apps, but still want to give your photos that aesthetic look, Faded is a great place to start.
Faded is available for free on the Apple App Store.
Facetune: The Best for Stunning Self Portraits
We all want to show off our best self on social media, and Facetune is here to help. This app from Lightricks is our go-to for editing and enhancing our selfies.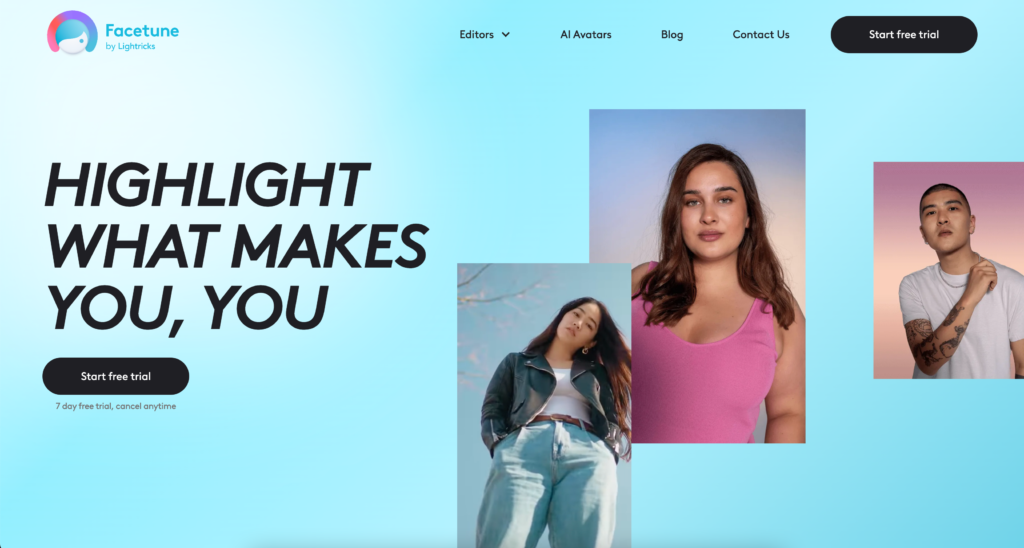 On the Facetune app, creators are able to retouch their self portraits using smoothing, glow, anti glare, and tone fix filters. From whitening your teeth to removing blemishes with one tap, Facetune turns an everyday selfie to an aesthetic work of art.
They also have an AI avatar generator which is a blast to experiment with. After uploading your best selfies, you'll get an array of AI generated characters all inspired by you. Definitely check this one out!
The Facetune is app is available for free on the Apple and Google Play stores.
Picsart: The Best for Creative Photo Editing
Our list of aesthetic pictures & design tools wouldn't be complete without Picsart – an all-in-one creative platform featuring photo, video editing, and design tools.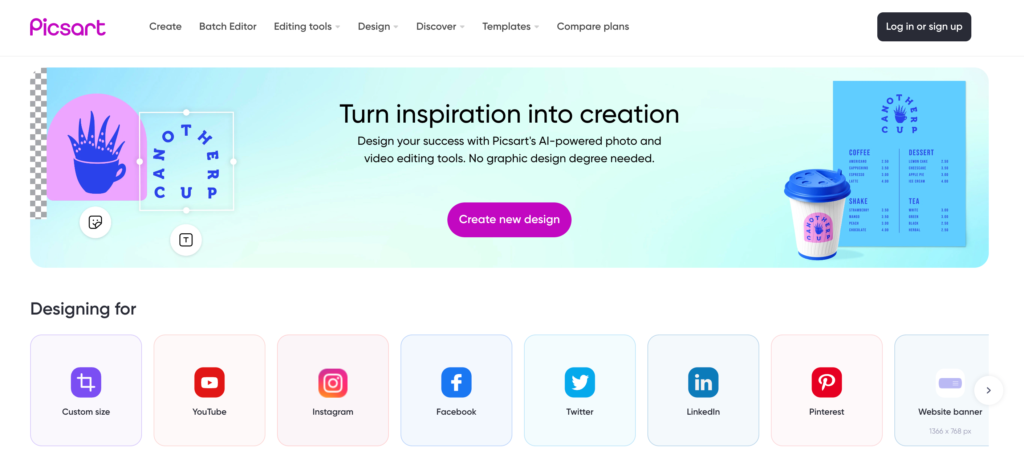 With an array of social media templates kick-starting your design flow, Picsart provides some game-changing photo editing tools that will take your aesthetic pictures to the next level.
From a sticker maker to adding canvas effects, Picsart is a one-stop-shop for all your creative photo editing needs.
One of our absolutely faves is their Sketch Effect tool, which creates a sketch outline of your photo in mere seconds. You're able to customize your photo background, change the sketch color, and really make your photos pop. You definitely want to check this creative design tool out.
Start with Picsart for free on their website or mobile apps.
Remove.BG: The Best for Removing Photo Backgrounds
We've all needed to remove a background from an image before. But removing it yourself using Photoshop can be complicated and take a lot of time. Thankfully, remove.bg makes it super easy.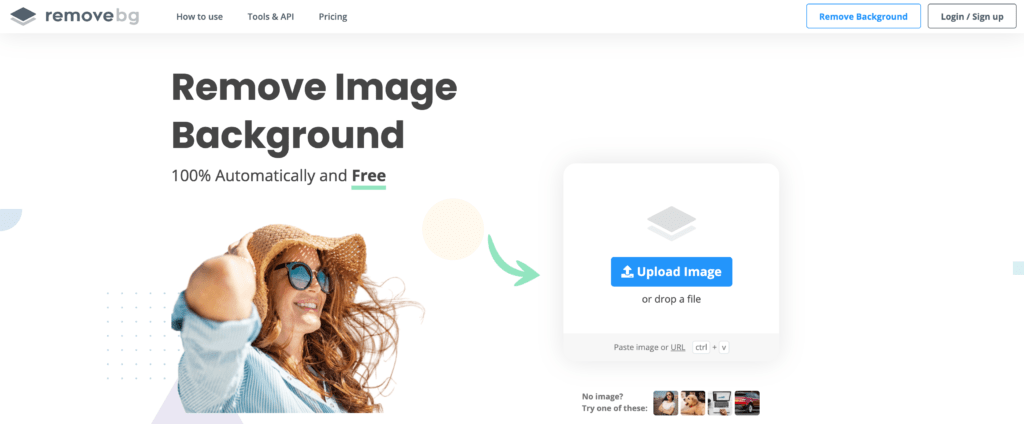 With just a one click to upload your photo, you can upload your photo and have the background removed instantly. Like magic! You don't have to edit anything yourself – just upload!
Remove.bg is 100% free to use and amazingly easy. Stop wasting time trying to do it yourself. You get super high-quality images just a few seconds later. And you even have the option of adding some of their preset backgrounds to spice up you images.
So when you're looking to grab that featured subject of your photo, just use remove.bg. It will make editing your aesthetic pictures so much easier!
Remove.g is available for free on your browser or on the Google Play Store.
Thematic: The Best for Free Aesthetic Music
Now that your photos are looking super aesthetic with all of these amazing photo editing apps, how about grabbing yourself some free aesthetic music for your videos?
Thematic is the go-to source to get free aesthetic music for your YouTube videos. That's right, Thematic provides royalty free music for you to use in your YouTube videos for free.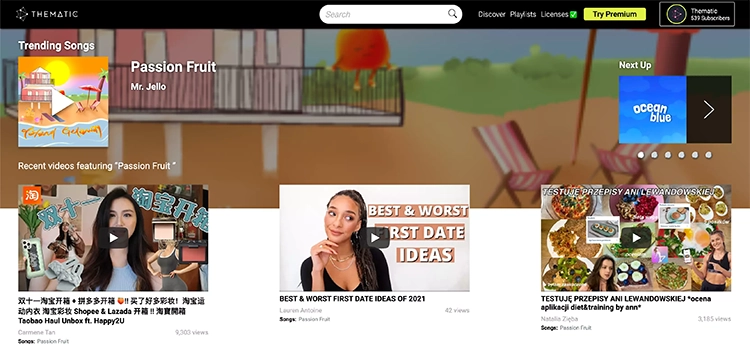 We've compiled a list of our favorite aesthetic songs to soundtrack your YouTube videos here. You can find songs from Fiji Blue, ninjoi., frumhere & kevatta, and so many more great artists.
The best thing is, you can use the music from Thematic forever, worldwide, and no matter how many (or few) followers you have. It's royalty free music! In addition, you can even use the music in sponsored or branded content with no problems!
For those of you who have a hard time finding good music that matches your video, that's not a problem. Thematic curates music by content type and theme, so you'll spend less time searching for that perfect song and more time creating.
So if you are a creator struggling to look for music, Thematic is the perfect solution for you.
Creator EMT shows you how to use Thematic to get free music to use in your YouTube videos
Whether you need intro music, outro music, or even just background music, Thematic's massive music selection has you covered.
As a creator, you already have plenty of things to worry about, like content quality, viewer count, insights, and growing your channel. With Thematic, you get to use a wide selection of aesthetic songs from the best new music artists. Above all, you no longer have to worry about copyright claims, disputes, or strikes against your videos.
The best part is, creating an account on Thematic is totally free and you get to keep 100% of your ad revenue with our claim-free experience. If all this has gotten you interested in creating video content with some great music, get started today! It's simple 💪
We hope you enjoyed our list of the best free photo editing apps and tools to create aesthetic pictures. If you're looking for more free aesthetic apps, we recommend checking out out this video from creator KennethLarita:
So what are you waiting for? It's time to improve your photo aesthetic. Get started curating your best Instagram feed and giving your brand that trendy aesthetic look ✅
---
Looking for more creator tools and resources? Visit Thematic's Creator Toolkit for additional resources on creating content – including thumbnail and channel art templates, best practices, and of course, great royalty free songs to use in your videos for free with Thematic.
We can't wait to see what you create!