Thematic unveils a series of community-based tools designed to support the growth of creators at every stage of their careers.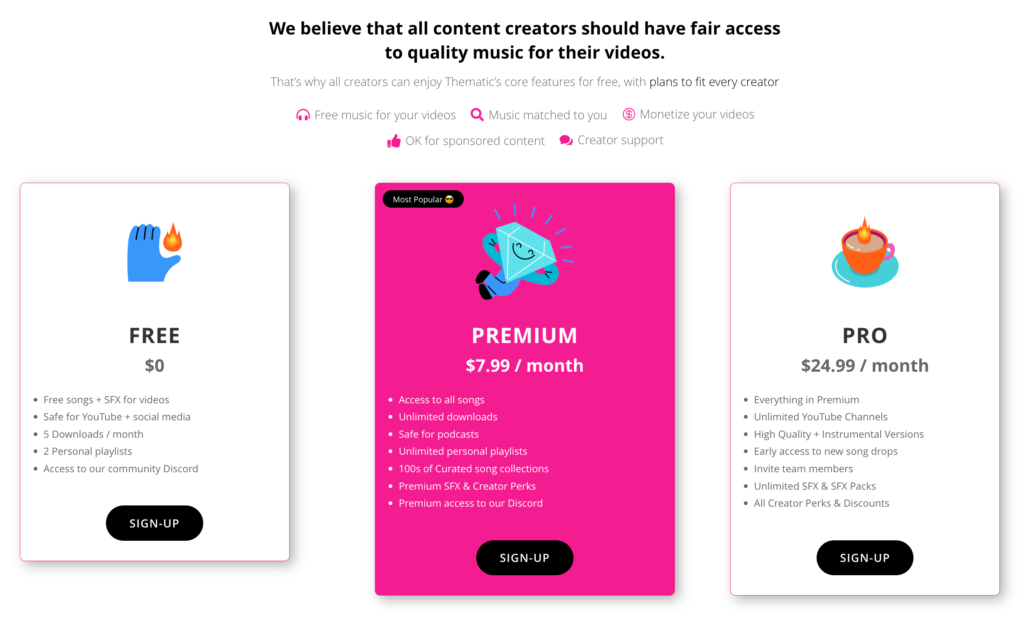 In 2018, Thematic's innovative licensing model disrupted the royalty-free music landscape by providing creators access to trending commercial music to soundtrack their videos, without financial barriers.
Building upon this success, Thematic expanded its services by launching a Premium tier in 2020, designed to give creators additional functionality and features to enhance their video creation experience.
While the free tier assists those just starting out, Thematic offers a solution that caters to creators at every stage, ensuring their growth is nurtured as they evolve into small businesses.
Thematic's Pro tier provides a host of exclusive benefits, advanced tools, and unparalleled resources including early access to songs, team management features, and clearance for unlimited creator projects. The company is committed to continuously expanding the Pro service to ensure that full-time creators have the necessary tools and support to take their craft to the next level and achieve their professional goals.
Early Access
Thematic has recently launched the "Early Access" feature which grants Pro users exclusive access to all new music drops seven days before the rest of the creator community.
Additionally, the "Early Access" feature plays a crucial role in the journey of music artists, as they are able to get their songs into the hands of influential content creators who have the power to amplify their music to millions of viewers worldwide. Artists who have benefited from Thematic's community marketing engine include ODESZA, Lauv, Benee, Dylan Rockoff, Nicky Youre, HOAX, and Fiji Blue.
Thematic's "Early Access" fosters a symbiotic relationship between content creators and independent music artists, empowering both parties. Pro users gain exclusive access to a treasure trove of emerging talent. By releasing music early to a select group of tastemakers, artists can create excitement and generate demand for their new songs right on release day. This feature transforms content creation and music discovery, shaping the future of creative collaborations.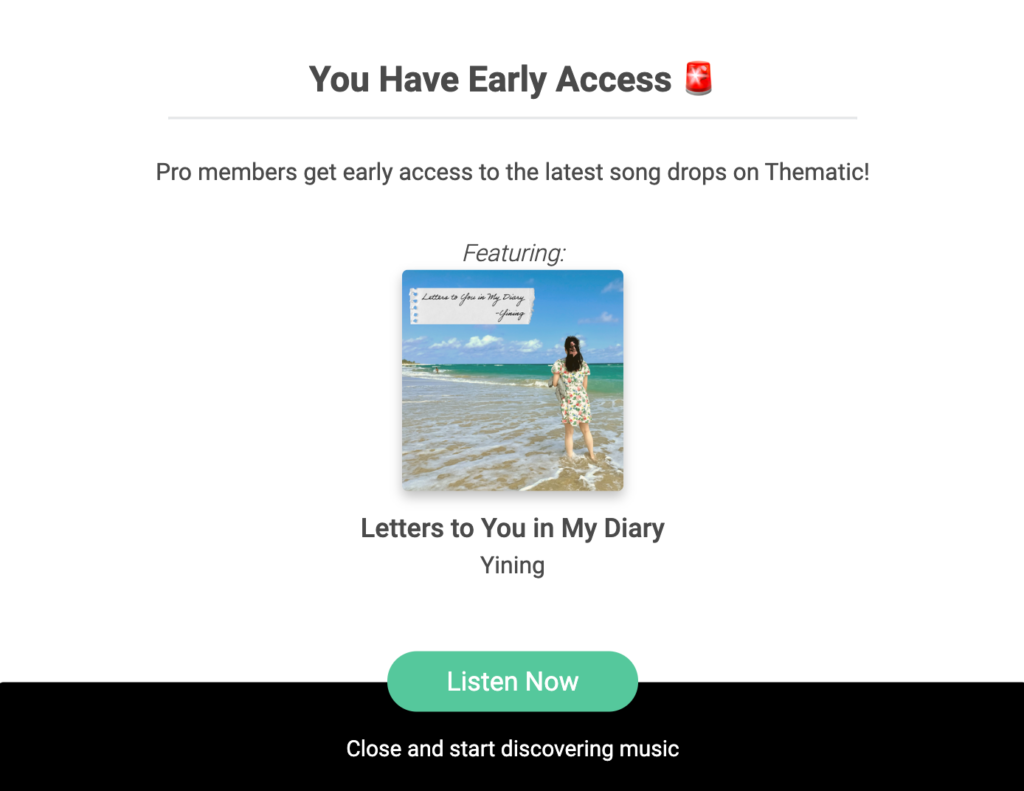 Community Review
To deliver on its mission to democratize music discovery, Thematic has recently launched "Community Review," a dynamic and interactive rating system that enables content creators to evaluate a wide range of music for inclusion on the site. Serving as a community-driven hub, the "Community Review" collective decision-making fosters a sense of creative empowerment amongst its users by giving them an active role in choosing which music will be available on the site.
"Community Review" is a game changer for music artists because it offers a unique opportunity to showcase their songs to a highly engaged and influential community of content creators. Through this process, artists gain access to valuable feedback, ratings, and reviews from the community. This feedback helps them gauge the quality and relevance of their music, and provides artists with the insights and predictive analytics necessary to make valuable improvements and optimizations.
Sound Effects and SFX packs
Building upon its success in leveraging matchmaking and community participation to curate music playlists, Thematic is now applying its innovative approach to sound effects. Sound effects play a crucial role in enhancing the narrative and storytelling within a video. The shared familiarity of certain effects within meme culture creates a sense of community and inside jokes amongst users.
As part of this exciting development, Thematic will provide content creators with a comprehensive collection of popular SFX. In addition, Thematic will offer curated playlists that include packs of the most relevant sound effects used by the creators they follow that perfectly complement the themes and moods of their videos.

Support for more creator platforms
Thematic is thrilled to announce the expansion of its supported social media platforms, catering to the evolving needs of content creators. In addition to YouTube and Instagram, Thematic now allows creators to utilize its vast music library across all major social media platforms and even podcasts.
Whether you're a free user, Premium user, or Pro user, Thematic ensures creators have the freedom and flexibility to enhance their content with the perfect songs and distribute them worry-free, wherever they're shared.
This expansion opens up endless possibilities for creators to reach and engage with their audiences on platforms such as TikTok, Facebook, Twitter, Twitch, and more. Thematic's commitment to empowering creators extends across the digital landscape, providing them with the tools and resources they need to unlock their full creative potential and captivate audiences wherever they may be.
Instrumentals
While many royalty-free music platforms focus on instrumental tracks, Thematic is set by its unparalleled offering of lyric-driven songs that match the theme of creators' videos. At the same time, instrumental tracks do have a place in the realm of content creation.With this latest release, creators on Thematic's Pro tier now have the ability to access instrumental versions of their favorite songs as well, offering them enormous flexibility in the editing process.
By providing instrumental tracks alongside their original counterparts, Thematic empowers creators to seamlessly adjust the audio elements of their videos, accommodating diverse storytelling needs and enhancing the overall impact of their content, while at the same time providing additional discovery opportunities for their music artists.
---
About Thematic
Launched in 2018, Thematic is a peer-to-peer platform built by creators to source and trade assets on-demand, built on proprietary machine learning and community participation.
As an open exchange for creators and music artists, Thematic is now a global community of over 700,000 creators from hobbyists to the biggest accounts on YouTube.
By introducing the Pro tier, Thematic now offers a dynamic and comprehensive platform specifically tailored to cater to the aspirations of creators at any stage of their career. Thematic's latest release marks another groundbreaking stride in revolutionizing the content creation landscape.