Copyright Free Music by Genres for Videos & Podcasts
Explore all of Thematic's genres of copyright-free music featuring trending songs you can use in YouTube videos, social media, and podcasts for free ✌️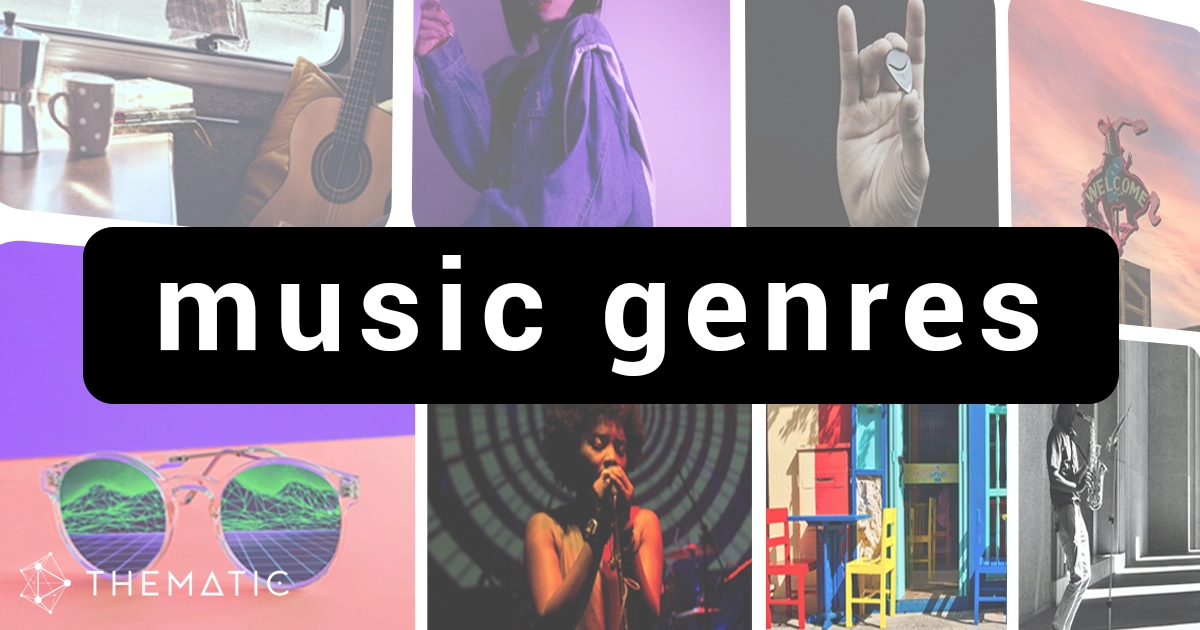 Discover the most popular genres of music that creators are using in their content. Click on any genre to discover the top songs, curated playlists, and featured music artists in that specific genre.
Lo-Fi Music
Lo-Fi is a style of music that takes inspiration from old vinyl records, cassette tapes, and 8-track tapes to create an aesthetic driven by 90s culture. The Lo-Fi genre has its roots in vintage media and relies on nostalgic imagery for its chill aesthetic. If you listen to Lofi Girl, Chillhop, or Coffee Shop Radio on YouTube, you're a fan of Lo-Fi music.
Pop Music
Pop music is a genre of 'popular' music that is intended to be commercially successful and accessible to widespread audiences. It often incorporates catchy hooks, strong melodies as well as repetitive lyrics, hooks and/or riffs. Fans of Britney Spears, Justin Bieber, and Ariana Grande and Top 40 radio are fans of pop music.
R&B Music
Rhythm and blues (R&B) most often describes a style of music that developed after World War II that combines elements of pop, gospel, blues and jazz with a strong back beat. The genre features a distinctive record production style, drum machine-backed rhythms, pitch corrected vocals, and a smooth, lush style of vocal arrangement.
Rap & Hip-Hop Music
Hip hop or rap music is a genre of popular music that originated in New York City in the 1970s. It consists of stylized rhythmic music that commonly accompanies rapping, a rhythmic and rhyming speech that is chanted.
Latin Music
Latin music is the music of the Spanish & Portuguese-speaking Caribbean, Central and South America. This music has roots in Southern Europe, Africa, and indigenous cultures of the Americas, making it a diverse synthesis of musical traditions with a taste for freedom and experimentation.
Dance & Electronic Music
Electronic dance music, or simply dance, is a broad range of percussive electronic music genres made largely for nightclubs, raves, and festivals. It encompasses styles such as house music, disco music, synthpop, techno, trance music, drum and bass, dubstep and trap.
Alternative & Indie Music
Alternative & Indie music is a wide range of musical styles that sit outside the mainstream sound. It encompasses many subgenres, from Lo-Fi to Ska to Singer-Songwriters, and Emo music, and is typically thought of as a little left-of-center, slightly more innovative than pop music.
Country Music
Country is a music genre originating in the Southern and Southwestern United States. First produced in the 1920s, country primarily focuses on working class Americans and blue-collar American life. The lyrics focus on topics such as working-class American family tradition, as well as patriotism.
K-Pop Music
K-pop is a genre of pop music originating from South Korea. Like most Asian pop music, K-pop adopts elements of genres such as hip hop, dance, electronic,and jazz. K-pop music typically features dance routines and singing in Korean lyrics intermixed with some English. BTS, BLACKPINK, and EXO are just a few of the leading K-pop groups.
Afro-beat Music
Afrobeat is a Nigerian music genre that combines West African musical styles and American funk, jazz, and soul influences, with a focus on chanted vocals, complex intersecting rhythms, and percussion.
New Age Music
New age music is simply the most popular style of music created in a positive and inspirational style. It is intended to create artistic inspiration, relaxation and optimism. Used by listeners for yoga, massage, meditation and reading as a method of stress management or just to create a peaceful atmosphere in their homes or other environments.
Rock Music
Rock music is a broad genre of popular music that originated as "rock and roll" in the United States in the late 1940s and early 1950s. Rock music is typically built on a combination of guitar riffs, rhythmic percussive chord progressions and melodic lines, incorporating elements of blues and other genres like jazz, gospel and soul.
Explore all of the music genres available on Thematic for you to use in videos and podcasts:
Get Trending Music for YouTube Videos
Thematic provides creators with the best music for YouTube videos, social media, and podcasts.
Creators don't have to worry about copyright claims or paying music royalties when using Thematic music. We keep it simple. You're set for a copyright-safe and claim-free experience when using Thematic for your videos ✅