Ask any successful YouTube creator what the secret is to how to grow your YouTube channel and you might get a different response each time. It's hard for a creator to pinpoint that one key element that has made all the difference in building their channel.
As an aspiring creator, you can spend hours clicking through the endless number of blogs and sites featuring different ways to beat the YouTube algorithm, optimize YouTube videos, or get real YouTube subscribers.
But most of these blogs are forgetting about that one key element that is incredibly important in growing a YouTube channel: music 🎧
That's right, using music in YouTube videos is the secret of how to grow a YouTube channel and get more views and subscribers.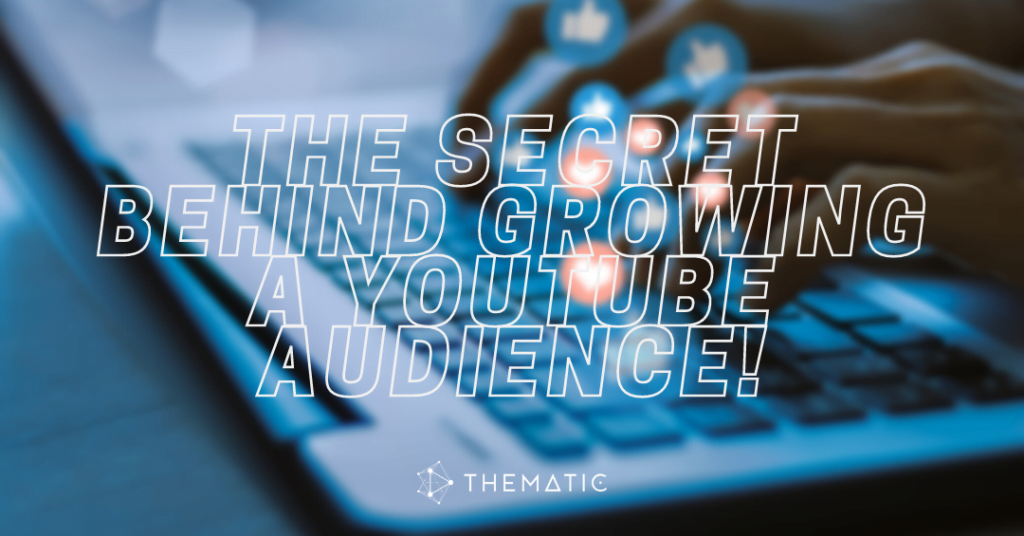 Music can either make or break a video. It can mean the difference between an inspiring moment or something that just falls short.
For example, this scene goes totally sideways when the wrong song is used:
And music in YouTube videos is undeniable. Even YouTube agrees – they posted that "music is essential to Shorts and across YouTube" (how can you argue with that?).
In a study by Pex about the state of music on YouTube, it was found that more than 84% of YouTube videos contain at least 10 seconds of music. That's massive when you consider that over 500 hours of content are uploaded to YouTube every minute (!!!) 😱, but not surprising!
Think about it, when was the last time you watched a YouTube video or YouTube Short that didn't use music? 🤔
Music is an essential ingredient for videos, and one that is often overlooked in building out your channel strategy. Smartly using music in your videos can help supercharge your YouTube channel growth. Growing your YouTube channel will happen faster than you can imagine when you use music to supercharge your content. It's the secret to taking your channel to the next level ✅
Music sets the tone
The music you use in your YouTube videos creates the environment for your viewers. It sets the tone for the overall feeling for your video.
Think about what you experience when you walk into a hotel lobby, with the calming music playing softly in the background. How does that compare to walking into a nightclub, with high energy dance music, or into a concert venue, with upbeat music playing to get the audience excited? In each scenario, the environment and overall feeling is created largely by the music.
When a viewer opens your video, the effect is the same. The expectations are set by that first sound they hear from the video. At this moment, what do you want your viewers to feel? What is the energy and environment you're creating for their viewing session? 🤔
Filmmaker and YouTube creator David Le sums it up perfectly.
"The music pieces things together more than anything else in the video. The sound brings the video to life. It grabs them by their ears and pulls them in with their eyes."
He notes that "music is an essential part of what I create" and we couldn't agree more.
Music builds a connection with your viewers
Music has always been a great way to build like-minded communities. It brings people together who share similar interests and helps to define cultural movements.
Think of themed musical experiences, like the Stagecoach festival or Warped Tour. These events would bring this huge group of people together who shared a love for that type of music. Stagecoach celebrated country music, while Warped Tour embraced all different types of rock music. These experiences represented a certain lifestyle and culture, all connected by the music.
Similarly, music is bringing communities together on YouTube. It is a huge part of the reason why people connect with and follow certain creators. Successful YouTube creators often have a consistent music theme or aesthetic associated with their channel.
For example, Michelle Phan became known for the Magic Hour Radio aesthetic with chill, lofi inspired music. This music perfectly complements her ASMR-esque makeup tutorials 💄
Jeremy Ethier, who built one of the largest fitness and workout channels 🏋️‍♀️ on YouTube, consistently soundtracks his videos with hip–hop music. This music matches his content and helps define his overall branding as a creator.
As a result of their consistent music aesthetic, the audience knows exactly what the creator represents and what type of community they're building. There is an overall feeling or vibe of the channel, which is largely defined by the music it uses.
Music makes it easy for viewers to connect with a creator and their content. It's the reason why some people say "I don't know why, but I just love this creator." With this connection, there is an increased chance of growing a YouTube channel. It's a no-brainer for viewers to subscribe and follow a creator when they are joining a community of like-minded people.
👉 Pro Tip: Creators who are just getting started should try out different types of music for their YouTube videos. See what feels right for your content and community. When you've found the perfect fit, you'll be on the way to growing a YouTube channel through better engagement and subscribers 📈
Music soundtracks every moment
At the end of the day, we're all human. We sometimes have amazing, unforgettable days, but sometimes it's just a no-good, rainy day mood.
Sharing emotions helps to strengthen the bonds between people. Similarly, sharing your ups-and-downs with viewers can help strengthen the connection between you and your viewers and subscribers on YouTube. One of the best ways to do this is through the music you feature in your videos.
For example, how weird would it be to start playing a video with fun, upbeat and energizing music that is all about dealing with a death in the family? It just wouldn't make sense! 😜 Your viewers would feel disconnected and less likely to engage with or subscribe to your channel.
Finding the right music is incredibly important for creating the right mood for your video. It can be magical when you pair the perfect song with your current emotion. This creates an inspiring moment for your viewers, deepening the connection between you and your subscribers.
When a viewer is inspired by and feels connected to your content (and to you as a creator), they are way more likely to subscribe to your channel.
👉 Pro Tip: Find the music that best reflects your mood with our favorite feel good, upbeat music, chill lofi music, and aesthetic music playlists.
Music establishes you as a tastemaker
You can usually tell right away when someone is just getting started as a YouTuber. This is because their video quality may be low, the lighting may be bad, and most especially, the music is typically not good (think of those free songs from your editing software that are extremely basic).
Over time, many creators realize the importance of quality music for their YouTube videos and how it can set them apart from other creators. You notice that the channels growing fastest are the ones with great production and great music.
YouTube creator Backpacker Humpback illustrates this perfectly. He demonstrates the impact of how much the right music can transform your content from being just OK to something amazing:
Think about the creators that you follow. Are they using basic stock music in their videos? Or are they featuring trendy songs from real artists? Most likely, they are using good music.
Top influencers are tastemakers when it comes to using music in their videos. Their viewers tune in knowing that they might just discover their new favorite song.
It's important to keep this in mind as you are creating your videos and growing your YouTube channel. Having a good source for quality and royalty free music helps you to get ahead. It sets you up as an influencer and a tastemaker, and not just a new or inexperienced content creator.
👉 Pro Tip: Don't let your content suffer by settling for uninspiring songs from YouTube Audio Library 👎. Get quality music from real artists (for free) with Thematic.
Use copyright free music that lets you monetize
If you're researching the secrets of how to grow a YouTube channel, it's most likely because you not only want to share your opinion and creativity, but also to earn money. Your channel is a business, so it's important to treat it like one.
Once you're eligible to monetize your videos with YouTube's Partner Program (with more than 1,000 subscribers and either 4,000 public watch hours in the past year OR 10 million public Shorts views in the last 90 days), you don't want to waste your time (or potential earnings) by dealing with copyright claims.
That's why it's important to always use cleared music for your videos and Shorts. Having the right source for music for YouTube videos is key to reducing and even eliminating the risk of not being able to monetize your content.
Thankfully, Thematic makes it super easy to get quality royalty free music from real artists for your videos – for free! ✅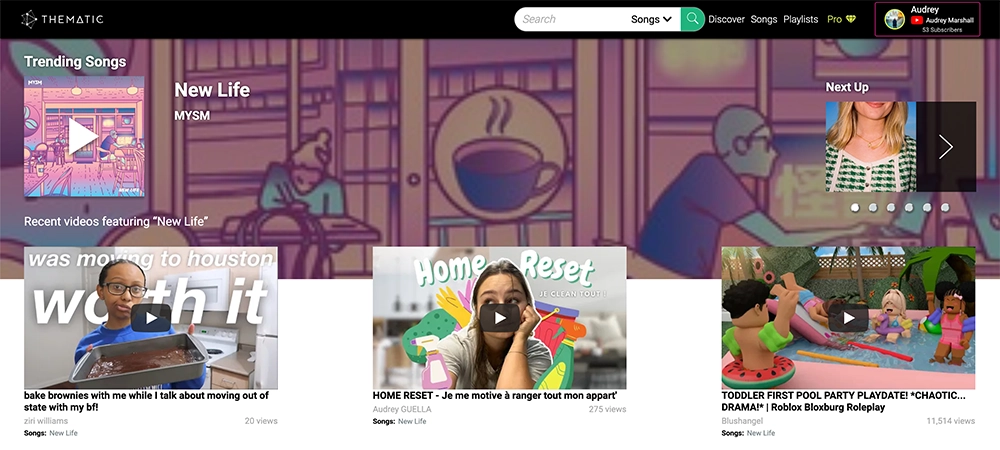 Thematic is the go-to source to get the best free music for YouTube videos. You can use the music from Thematic forever, worldwide, and no matter how many (or few) followers you have. In addition, you can even use the music in sponsored or branded content with no problems!
As a content creator, you already have plenty of things to worry about, like content quality, viewer count, insights, and growing a YouTube channel. With Thematic, you get to use a wide selection of songs from the best new music artists (like Fiji Blue, Naomi, frumhere, and Elli Moore). Above all, you no longer have to worry about copyright claims, disputes, or strikes against your videos.
The best part is, creating an account on Thematic is totally free and you get to keep 100% of your ad revenue with our claim-free experience. If all this has gotten you interested in creating video content with some great music, get started today! It's simple 💪
One last tip on how to grow a YouTube channel!
Think of some of the largest brands in the world – McDonald's, Intel, and even Farmer's Insurance. Or perhaps your favorite TV show (like Friends, How I Met Your Mother, or Sex and the City).
Ok, tell me you didn't just hum each of those brand jingles or theme songs in your head 🌝 The jingles and theme songs associated with each of those brands and TV shows are unforgettable.
Similarly, music can help define your own brand. Including recognizable elements in all of your videos (like the same intro or outro music) is a great way to brand your YouTube channel.
These repeatable elements are powerful tools in setting your channel apart from everyone else. They leave a lasting impression on your viewers. And because of that, growing a YouTube channel and getting more subscribers is much more likely. Your content will stand out from the rest.
---
We hope you find this guide on how to grow a YouTube channel through music helpful. These tips and insights will help you on your way to growing your brand, increasing your YouTube subscribers, and taking your channel to the next level.
Looking for more creator tools and resources? Visit Thematic's Creator Toolkit for additional resources on creating content – including starting a YouTube channel, thumbnail and channel art templates, best practices, and of course, great royalty free songs to use in your videos for free with Thematic.