You've come to ultimate guide on how to optimize YouTube videos for the search and discovery algorithm. Get all the best insider pro tips and tricks to add SEO to your YouTube channel and get your videos discovered by new viewers and subscribers!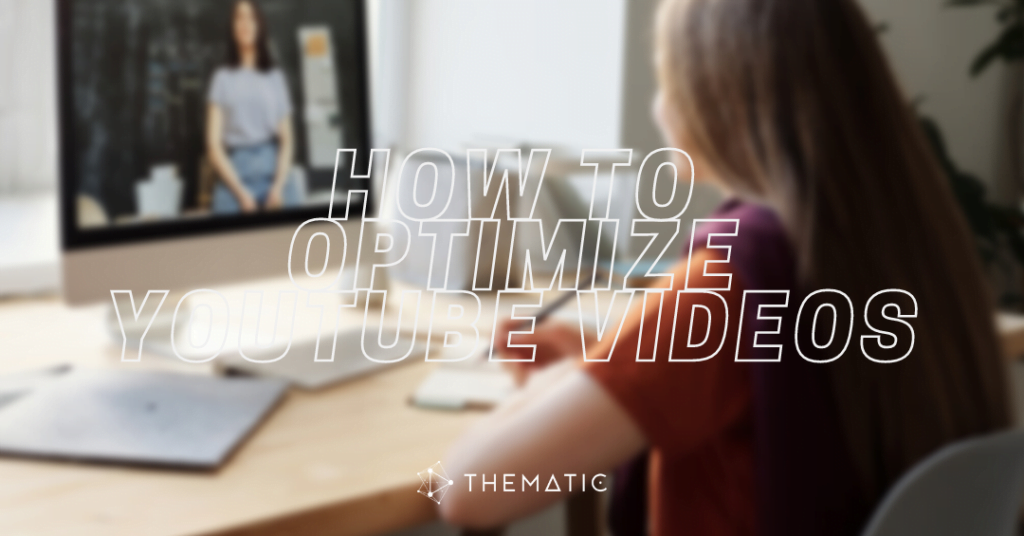 I'm sure you've seen many guides on how to best optimize YouTube videos and channels, so why trust us? Well, our YouTube-certified team of YouTube experts have successfully built and managed some of the leading channels on YouTube – from Michelle Phan and Qveen Herby to Lexy Panterra, Jennifer Lopez, and Normani.
We know how to best optimize YouTube videos and take a channel from 0 to 100. In this video optimization guide, you'll find some of the most essential ingredients on how to best optimize YouTube videos for SEO – from how to design your video title and description, to optimizing your video keywords and tags, and picking the perfect YouTube thumbnail.
YouTube creators of all levels can easily implement these tips and tricks to set their channel and videos up for the highest chance of success. Whether you're a YouTube beginner or a long-time and established creator, using these best practices for YouTube video optimization is a great foundational step in building out your YouTube channel.
Let's dig in!
4 Steps To Optimize YouTube Videos
Optimizing your YouTube video for search results is a key ingredient in your video upload process. An un-optimized video can destroy your chances of having your video discovered by new viewers and hurt your position in the Youtube algorithm.
We've broken our SEO recommendations into four steps below to make it super easy:
1. How To Title a YouTube Video
As you watch through your video before uploading, think again about the title. How would you describe your video in one sentence? What is the core content topic you provide in your video? Boil it down to the essentials here and describe exactly what your video is about.
✅ Pro tip: Include the most important keywords at the beginning of your title and keep any recurring, non-essential information (like episode numbers) at the very end.
For example, "House Tour of my Los Angeles Apartment" is way more optimized than "Watch me tour you around my LA apartment." House Tour is your strongest keyword phrase, so you'll want that first. We recommend doing research on the most popular search terms relevant to your video on Google Trends. You can also start typing related words into the YouTube search bar to see what comes as an auto-suggestion.
If you notice that many of your viewers are finding your videos by searching your channel name, consider including this at the end of your video titles. This will typically start to happen once your channel has started growing and you have consistent viewership.
✅ Pro tip: If you're really struggling writing your video title, consider using an AI generator to help you think of new ways to describe your video. Tools like Copy.ai and Jasper are easy to use AI-powered tools that can help summarize your video concept to create the best video title.
2. How To Write a Video Description
Write 1-2 sentences to describe your YouTube video. What happens in your video? What type of video did you create? The idea is to provide your viewers with a bit more context about what to expect when viewing your video. This description should build on the topic you presented in your video title.
✅ Pro tip: Make sure all of the keywords in your title are included in your description (again, the most important & strongest keywords should be listed first!).
Underneath your description, list your social links. You'll want your viewers to be able to find you across the web easily. Keep in mind that any time you change your social link or username, you will want to update these links across your channel. As a viewer, you can understand how frustrating it would be to try to find someone on Instagram only to discover that the page link is incorrect.
Also include links to any sites or videos mentioned in your video. If you told your viewers about a YouTube video they should watch, include a link to the video in your description for easy access.
✅ Pro tip: At the very bottom of your video description, always include a short description of your channel (1-2 sentences). We recommend also including here your video publishing schedule.
This channel description helps new viewers easily understand what your channel's about and helps with search optimization.
3. How To Optimize YouTube Video Keywords and Tags
Think again here about your title for your video. Put the 'strongest' keywords for your video first in your keyword box (just like you did for your title and description).
Then fill out your keyword box with more descriptive keywords. Use a mix of specific and general keywords, as well as common misspellings of any of your important keywords.
End your tags box with your standard channel keywords, including your channel name and topic. Make sure you use as many keywords as you can think of, but don't use any that are unrelated to your video (YouTube will not like that).
You can add up to 500 characters in your YouTube video tags.
✅ Pro tip: We always recommend getting as close to filling up the keyword box as possible (just make sure to keep your keywords relevant). Why miss out on potential search keywords or tags just because you didn't feel like filling this out?
4. How To Design a YouTube Thumbnail
Here's a link to download a perfectly sized YouTube thumbnail template for Photoshop (PSD) file.
Our top tips for creating engaging and optimized video thumbnails are:
Using bright, high-contrast images. Bump up those highlights and contrast.
Focus on close-up shots (if of a person) or clear images of your video topics. Our favorite way to test this is to zoom out super far on your image so that it's about an inch wide in your photo editor. Is it still clear? Or is the image way too detailed or small to figure out what it is? If that's the case, try another screenshot from your video. Keep in mind that many viewers will discover videos when using small screens (on their phone). Your thumbnail should be easy to see and understand when both super small and large (TV viewing).
It's time to optimize YouTube videos!
We hope you find this guide to optimize YouTube videos helpful. These YouTube SEO tips will help you on your way to increasing your search rank on YouTube. If you're ready for phase two, we recommend reading through YouTube's official creator guide on how to grow your channel.
So, good luck on your YouTube journey! We can't wait to see the videos that you create!
---
Looking for more creator tools and resources? Visit Thematic's Creator Toolkit for additional resources on creating content – including starting a YouTube channel, thumbnail and channel art templates, best practices, and of course, great royalty free songs to use in your videos for free with Thematic.