Browse Free Music by Video Theme & YouTube Keyword
Discover the best copyright-free music for your video theme and YouTube keywords. These songs are free to use in YouTube videos & social media ✌️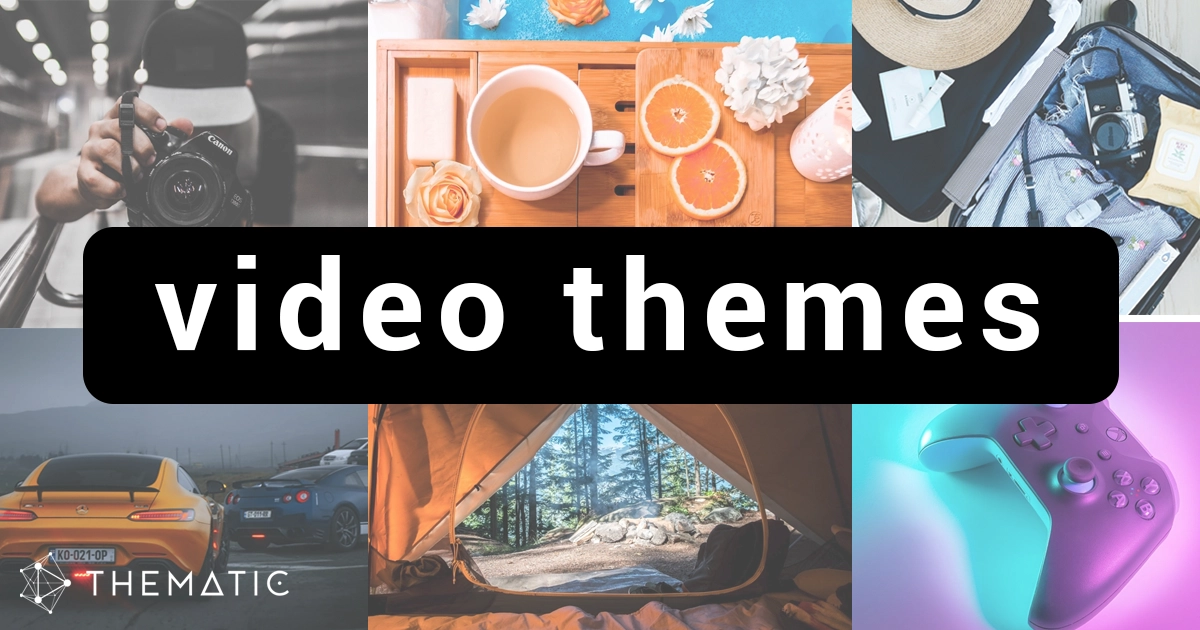 Trending Video Themes & Keywords
Explore the top trending video themes and keywords. Click on any video theme to discover and download the top songs, curated playlists, and featured music artists for that keyword.
Travel Videos
Explore the world from wherever you are thanks to travel videos. From travel vlogs to all the best travel tips you'll ever need, travel creators inspire us to book more vacations and discover new places. These videos often feature soothing or inspiring music that leave us feeling awe.
Vlogs
If you've never been on the internet before, vlogs are videos where individuals or creators film themselves doing various activities, sharing their thoughts, and experiences with their audience.
Morning & Daily Routines
Routine videos are some of the most popular videos on YouTube. These types of videos showcase a creator's regular day routine – from their morning or evening routines to their summer day or school day routines. These videos tend to feature relaxing and mood-setting music that pair well with the creator's overall aesthetic.
Self Care Videos
Self-care videos provide viewers with tips and strategies to prioritize their mental, emotional, and physical well-being. Ranging from skincare routines and workouts to mindfulness practices and mental health discussions, self care content is all about taking time to prioritize yourself.
Gaming Videos
If you're a fan of video games, the gaming creator community is the place to be. Making videos featuring gameplay, commentary, and reviews of video games, gaming creators use platforms such as Twitch, YouTube, and Mixer to share their gaming experiences with their audience. They often have dedicated fan bases who enjoy watching them play, listening to their commentary, and engaging with them through chat and social media.
Cooking & Food Videos
We hope you're hungry, because cooking and food creators have made us a delicious meal of some of the most appetizing videos to watch. With videos covering everything from recipes to food adventures and nutrition to ingredient sourcing, all of your food needs are covered.
Family Channels
Family creators create videos that focuses on their family life, sharing personal stories, experiences, and adventures with their viewers. Some family creators may offer parenting advice, share tips on family activities, or discuss topics related to family life. Family creators often have a strong bond with their audience, who may feel like they are a part of the family themselves. Some popular family channels include The ACE Family, The LaBrant Fam, and The Norris Nuts.
Study With Me Videos
Why study alone, when you can learn with students around the world through Study With Me videos. These soothing, relaxing videos provide focused environments and typical pair a real-time visual of students studying over books or computers while listening to chill, lofi music.
Workouts & Fitness Videos
Stay active and healthy thanks to the Fitness & Workout creator community. These creators cover everything from cardio and strength training to yoga and Pilates. No matter your workout style, fitness creators help viewers achieve their workout goals and often offer advice on nutrition and healthy living to complement their workout routines. Top fitness video creators include Blogilates, Fitness Blender, and POPSUGAR Fitness.
Explore All Video Themes & Keywords
Browse all of the top YouTube video themes and keywords. Click on any keyword to learn more about the theme and download free music for YouTube videos, social media, and podcasts:
Get Trending Music for YouTube Videos
Thematic provides creators with the best music for YouTube videos, social media, and podcasts.Creators don't have to worry about copyright claims or paying music royalties when using Thematic music. We keep it simple. You're set for a copyright-safe and claim-free experience when using Thematic for your videos ✅