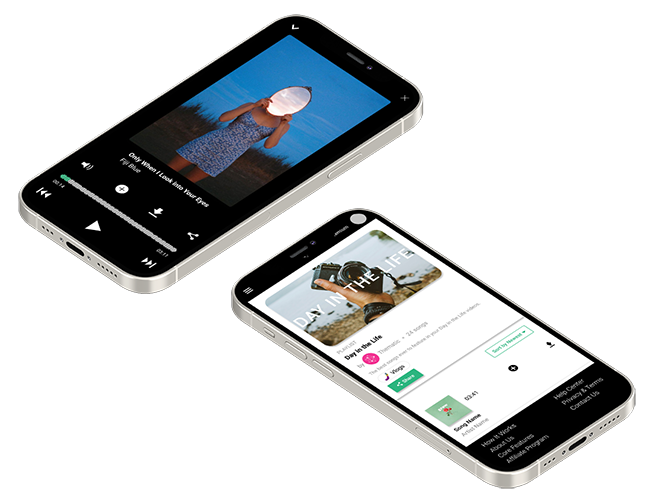 Find out how to use Thematic to get royalty free music for YouTube videos, social media, and podcasts ✅
1. Sign-Up for a Free Account
Sign-up for a free Thematic creator account using your email address.
2. Discover trending music, SFX, creators, and more!
Thematic makes it easy to discover and download the best copyright-free music and sound effects for your videos and podcasts.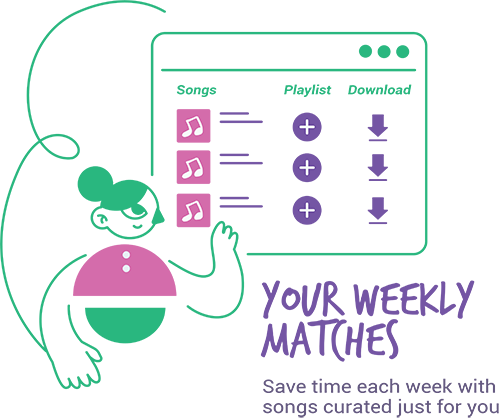 Get matched with music 🔥
Explore Your Weekly Matches and Your Thematics on your homepage featuring the best songs and playlists matched to your video themes and favorite types of music.
$

Songs are instantly matched to your content themes

$

Weekly Matches with songs selected just for you

$

Curated playlists based on your videos
Advanced search & song filters 🔎
Search for specific songs and sound effects using our 10+ advanced song filters, including:
$

Vibe

$

Video Keyword or Theme

$

Song Language

$

Artist Location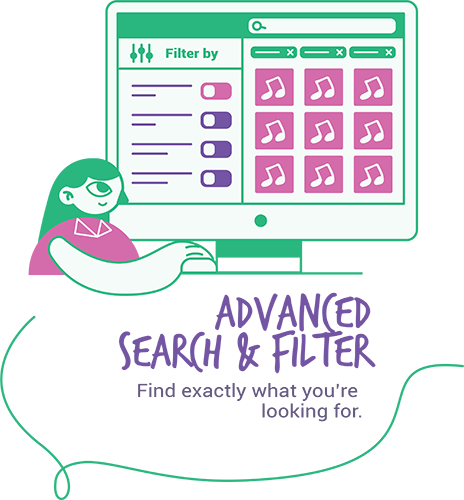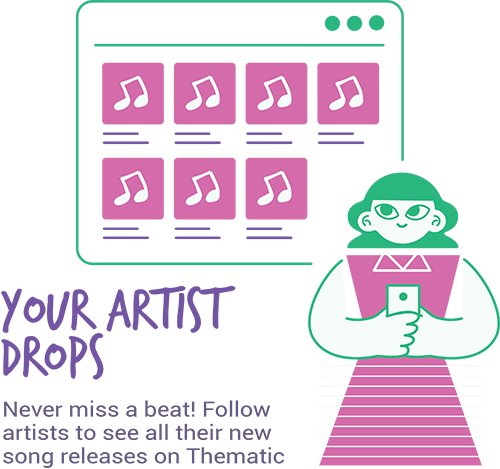 Connect with the Creator Community 💫
Follow creators & music artists and get notified when they drop new music on the site or feature songs in their videos.
$

New music drops every week

$

Songs from real music artists, no production sounds

$

Follow, connect, and collaborate with your fave artists

$

Create and share curated playlists with the community
3. Download music and sound effects
Click the download button and import the song or SFX into the video editing software of your choice.
✔️ If you plan to use the music on YouTube, make sure you are logged in as the channel where you'll be uploading your videos.
4. Post your content!
Thematic makes it easy to stay copyright claim-free.
Find your unique license links on the ✅ Licenses & Downloads page in your Thematic account after downloading the songs.
Add your license links to your video descriptions & captions when featuring the songs in your content. Your license links activate your music licenses and protect your videos from copyright claims.
👉 Only use your own license links (links from other creators or channels won't work).
5. Get your videos promoted
We love to show-off the Thematic creative community!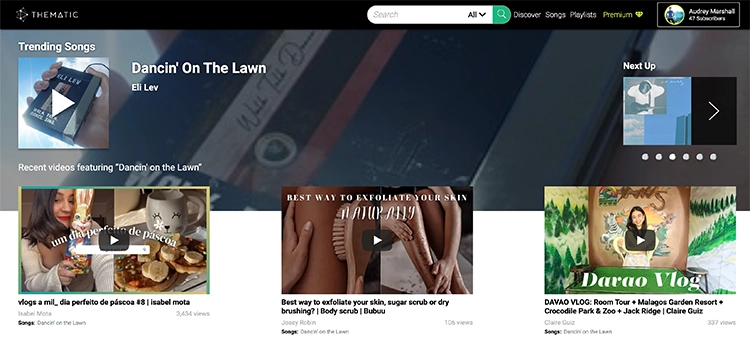 All creators will have their videos featured on their creator profiles. Your videos may also be promoted on the song and artist pages throughout the site. These videos are a great way to get new viewers and inspire the community!
Ready to take your videos to the next level?
What does the Thematic music license cover 👍
So long as you have your channel's own song license links included in your video description:
✅ Worldwide, perpetual rights to use the song in your video for as long as it is public
✅ Unlimited videos – you can feature the songs in as many videos as you like (no limit) while the song is available on Thematic
✅ You can adjust the start/stop points of the song to match the edit of your video
✅ Unlimited followers – if you're just getting started, or already have an active channel, you're welcome to use Thematic
✅ Unlimited views – more views, no problem! Don't worry about getting more coverage if your video takes off
✅ Sponsored or branded content – congrats on your integration! You're welcome to use the music for these videos (just remember your song promo links and to check your brand agreement!)
✅ All creators can use the music from Thematic in their YouTube videos and social media (Instagram, TikTok, Facebook, Twitter, Twitch, Pinterest, LinkedIn)
✅ Creators can use the music from Thematic in podcasts when subscribed to our Premium or Pro plans.
The following is not allowed 👎
These actions are against our terms of use and may result in a copyright claim
🚫 You can not use the music in audio-only videos (such as lyric videos, playlist videos, visualizers, or similar audio-only content)
🚫 You can not use someone else's license link (please only use your own license links from your Licenses page)
🚫 You can not remix the song or make any derivative works (duh!)
🚫 You can not sell, distribute, or sub-license the song
🚫 You can not use the songs on platforms not covered in our agreement
Let's answer all of your frequently asked questions about how to use Thematic!
Is the music on Thematic copyright-free?
You can use the music copyright-free (you will not receive a copyright claim for using the music) in your videos so long as you follow our license rules above.
Is this all stock / production music?
Nope! All of the music available on Thematic is provided by active music artists who are on social media, streaming services, and making a living doing what they love!
Is Thematic free for creators to use?
You bet! Any creator can start using Thematic absolutely free of charge. Here are all the core features we offer for free. We do have premium paid features available to help fast-track and enhance your creative experience.
Do I need to have a minimum number of followers to use Thematic?
No way! We love providing great music selections to creators of all sizes.
Is the music on Thematic royalty-free?
Technically, yes. Royalty-free music is simply music you can use without having to pay royalties each time you use it. Since Thematic is free to use, you just need to include your unique promo link each time you use the song to activate your music license.
I found this song from a 'no copyright' video on YouTube and gave credit, isn't that enough?
Sorry, but no. Simply copying someone else's credit to your video description does not grant you a license and will not clear the song for your video. To get your own music license for the song, sign-up for your own Thematic account and use the songs worry-free!
Happy to help! Check out our Help Center or drop us a message on our chat bubble.
What are you waiting for?
Sign-up with your Google account to instantly get your personal music recommendations.