Finding and hiring video editors and team members for a YouTube channel is a pivotal step in any creator's career. A hobby of creating videos for fun can evolve into a thriving creator business with the right team members in place.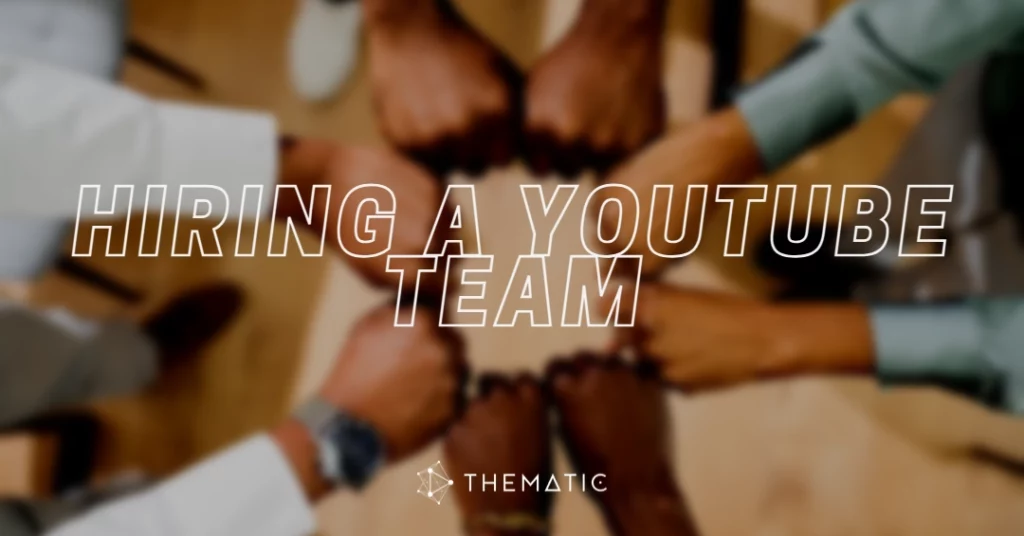 But where to begin and who to hire? Let's answer some of the most common questions about how to find and hire the right YouTube team members to take your channel to the next level.
Table of Contents:
The DIY Creator
Let's face it, most creators start out doing everything by themselves. From coming up with channel and video ideas, to filming and editing videos, and uploading content and engaging with viewers, and doing it all over again, creators are often a one-person show when first getting started. They do everything.
And as video creators are aware, there are many elements involved in the content creation process. Below are just a few things that a YouTube video production involves:
Content ideation and developing new video ideas
Capturing and filming the content
Video editing
Graphic design (for social posts and thumbnail creation)
Content management operations (from YouTube video optimization to programming schedules and community management)
Social media promotion
As most full-time YouTube creators will tell you, consistency is key when it comes to building a successful YouTube channel and growing subscribers.
According to VidIQ, it takes approximately 61 days (and about a video posted each week) to achieve the first 100 subscribers on a YouTube channel. And that's just the beginning! Regular video uploads are required to keep a YouTube channel going and to grow your subscribers.
With that in mind, creators need to consider the amount of work involved in building a thriving YouTube channel – it's never as easy as it seems.
Unfortunately, some creators realize this too late and end up getting creator burnout (and sometimes even just quit altogether). But you're one step ahead, reading this post and already thinking about hiring for your YouTube channel. You're on the right track!
To hire or not to hire?
The do-it-all-yourself approach can be sustainable for hobbyists and part-time creators who are creating just for fun or when they feel like it. If you don't have any dreams of quitting your regular job to become a content creator full-time, hiring YouTube team members is probably not the right choice for you.
However, creators who are serious about turning their YouTube channel into their full-time career and who aspire to be professional creators, should definitely think about the long-term commitment it requires.
Both are good options depending on your personal goals and aspirations. But keep in mind that becoming a full-time creator will clearly require more effort, dedication, and planning than just being a part-time creator or occasional uploader.
Before you make a decision on which path is right for you, let's walk through some of the key considerations of hiring for a YouTube team.
Your YouTube Team
Who to Hire for your Team
Just like a founder of a new business, understanding all of the different elements that are needed to run 'all of the things' provides a great foundation for knowing your personal strengths and weaknesses as a creator. It also helps to provide insight as to which roles to hire for and who to bring on to your YouTube team to help streamline the content creation and video production workflow.
For example, some creators thrive during the video creation process – from filming and recording their footage, to editing their video, and producing the finished product, but don't enjoy the 'business and marketing' element that quickly follows. Others may find more excitement in engaging with their viewer community and promoting their video across social media than sifting through footage, figuring out the best new creator tools to use, and spending hours editing their video together. And some find out that they like the idea of being a creator more so than actually doing the work (it's not as easy as the most successful creators make it seem).
The right team member to hire for your YouTube channel will be the person who can remove friction from your content creation flow and unlock time for you to focus on other areas of your creator business. They will add value to what you're building (not detract from it).
The creator who can't stand editing should probably look to hire a video editor. The creator who is a creation mastermind but hates keeping up on social media should probably look to bring on a social media manager to their team. It's different for everyone, so again, look at the parts of the video production process that are most painful and start there.
Included below is a cheat sheet of some key hires to consider when hiring for your YouTube team:
Video Editor to streamline and speed up your video editing flow.
Channel Manager to handle all of the admin tasks for your YouTube channel. This can include: scheduling uploads, creating playlists, video optimization and SEO, engaging with viewer comments, organizing your channel, and monitoring your video analytics).
Thumbnail Designer to create the most clickable thumbnails for your videos.
Scriptwriter to come up with video ideas and make your filming and editing flow more efficient.
Videographer to film your videos and capture new types of content (like drone footage).
Production Assistant to coordinate everything you need for your video shoots (from sourcing props and scheduling to securing locations).
Social Media Manager to help create and manage social media posts and graphics to promote your latest videos.
When to Hire for your Team
Creators should look to start hiring for their YouTube team once they start to gain traction, build an audience, and produce steady revenue flow from their creative efforts. This can be when your YouTube AdSense revenue hits a certain milestone that allows you the flexibility to bring on someone part-time. Or it can be at the point when you receive a steady flow of brand deals and you have less time to manage your creation flow or keep up your regular video or content output.
It's at these tipping points that creators typically realize that something needs to happen or they run the risk of burning out or hitting a plateau. Like with any scalable business, creators need a support system and team to grow their operation and reach their next level of success.
These pivotal moments can be the makers or breakers of success for creators. The creators who are able to scale and grow their operations into thriving businesses are the ones who are most positioned to capitalize on the economic opportunity at hand. These are the next generation of creator-founders who are at the heart of driving the new creator economy. 
Where to Find Video Editors and Team Members
Thankfully, today it's easy than ever to higher these types of creative team members for a channel. Creators can find part-time help through content creator job boards or by networking with creator communities on Discord.
Below are a few resources you may want to use in your search for hiring YouTube video editors or other team members for your channel:
YT Jobs – a site the is specific to finding talented professionals to help with your YouTube channel
UpWork & Fiverr – freelancer marketplaces with professionals specific to pretty much every type of work
LinkedIn – a social network for professionals and businesses
Creator Discord Channels & Forums – some of the best recommendations for video editors will come from other creators. Check out creator-specific groups (like the Discord communities from The Publish Press, VidIQ, or TubeBuddy, to name a few)
Additional Help and Creator Tools
Building out your video production team is just the first step in growing your creator career. Along your YouTube journey, you may consider adding on some of the following team members to make sure you are well-equipped for success:
a manager or talent agent to assist with brand deals and business opportunities
legal counsel to make sure your copyrights and business are handled properly
an accountant or financial advisor to protect your earnings and assets
Does all this talk of hiring leave you feeling overwhelmed? Don't worry! The first channel hire doesn't need to be a full-time employee. Many creators are able to find and hire freelance and part-time workers to bring on to their YouTube team.
And rest assured that you're not the first creator going through this growth process. Sometimes the best advice and help can come from fellow creators who have already hired for their team. They'll have insights as to what worked (and what didn't) and can give you tips on how to make it less stressful.
Finding and hiring people to help build your YouTube channel and creator business may seem scary at first, but thankfully there are plenty of resources and creator tools that help make it easy.
Join Thematic's creator community
At Thematic, we're here to help you on your creator journey, one video at a time.
From providing you with copyright-safe music for your videos to connecting you with other creators for collabs or advice, Thematic is the premier creator community.
Our mission is to support the growth of independent creators by matching them with the tools, assets, and services that unlock their full potential.
If you're interested in unlocking copyright-safe music for your videos and connecting with digital video creators and music artists, sign-up for a free Thematic account here.
We're excited to see what you create.
---
Looking for more creator tools and resources? Visit Thematic's Creator Toolkit for additional resources on creating content – including starting a YouTube channel, thumbnail and channel art templates, best practices, and of course, great royalty free songs to use in your videos for free with Thematic.