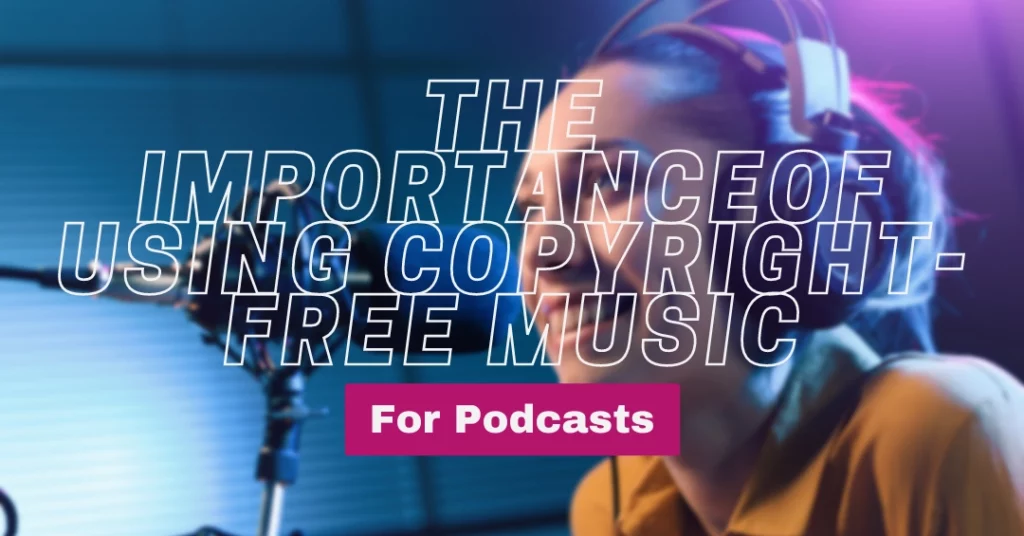 In the dynamic world of podcasting, finding the perfect soundtrack to complement your content can make a difference. But did you know that using copyrighted music without proper licensing or clearance can lead to legal complications? That's where copyright-free music comes to the rescue!
Copyright-free music refers to tracks that are legally available for use without any restrictions or the need for licensing. Whether you're an aspiring podcaster or a seasoned pro, incorporating copyright-free music for podcast episodes saves you from legal headaches and adds professionalism to your podcast.
Table of Contents:
Understanding Licenses and Rights for Copyright-Free Music for Podcasts
When finding copyright-free music for your podcasts, it's important to understand the different types of licenses and rights associated with copyright-free music. This will help you choose the right music for your podcast and ensure you use it legally.
Differentiate between copyright-free, royalty-free, Creative Commons, and Podsafe music licenses
There are three main types of licenses that you will come across when searching for copyright-free music:
Royalty-Free: Royalty-free music allows you to use the music in your podcasts without paying ongoing royalties. These licenses often have a one-time fee, and you can use the music in multiple projects.
Creative Commons: Creative Commons licenses allow you to use the music in your podcasts with certain conditions. These licenses vary and can range from allowing you to use the music commercially to requiring you to attribute the original artist.
Podsafe: Podsafe music is specifically designated for use in podcasts. It is typically royalty-free and can be used without further permissions or licenses.
How to Find the Right Podcast Music Library?
Podcast music libraries are curated collections of copyright-free songs specifically designed for podcasters. These services offer various musical styles and genres, allowing podcasters to find the perfect sound to complement their show.
Using a podcast music library saves valuable time and effort searching for suitable copyright-free music for podcasts. Instead of scouring the internet for individual songs, podcasters can conveniently browse through a library's extensive catalog of high-quality, professionally-produced music by talented artists and composers that matches the mood and theme of their podcast.
Finding the proper podcast music library is important to secure the future of your podcast. Here are 5 essential considerations to find the right copyright-free podcast music platform.
Music Catalog: To produce a professional podcast, you must ensure that every component is of high quality, not only in technical terms of quality of sound but musicianship. Access to great artists and their catalogs is crucial to sound different from everyone else.
Curation Method and Systems: Nowadays, anyone can create a beat or a simple song. In many cases, copyright-free music platforms incentivize artists to produce many pieces regardless of the music, creating a feeling for your audience. They just want a massive number of songs. The best platforms have processes, technologies, and communities that facilitate the curation process, so you can trust that any music you use will help create a connection with your audience.
Fast Finding and Matching: As a podcaster, your time is best spent planning, creating, recording, and promoting your podcast; finding the right song should be quick. Intelligent matching engines and AI-driven music search should be a top requirement when finding the right platform to download copyright-free music for podcasts.
Multi-Platform Support: Top podcasts become huge successes in other streaming media channels like YouTube; for this reason, you should find a platform that allows you to use the songs wherever you need. Many platforms only allow the use of songs to a single media stream if you pay for additional channels. Due to licensing, you are unable to promote your podcast on YouTube, Instagram, or TikTok.
Legal Peace of Mind: The best platforms can guarantee that you won't have problems by using their songs, but what happens if you do? Ensure you have the support of a community of content creators and artists at your disposal and the platform to ensure you're free to produce and monetize.
By relying on reputable podcast music service platforms, podcasters can ensure they have access to a diverse array of copyright-free music tracks and sound effects that enhance their podcast listening experience.
Should I pay a subscription to download copyright-free Music for podcasts?
It's not a secret that launching a podcast requires some investment. There's a need to secure good acoustics for recording, recording equipment, software, distribution platforms, graphic design, production, etc. As bills pile up, you may try to find a way to reduce costs. Trying to get all the licensing processes on your own may look like a way to reduce costs… believe us, it's not that simple. You need to do this if you don't plan to use a platform like Thematic to download copyright-free music for podcasts.
Music Licensing Process for Podcasts
As a podcaster, it is crucial to understand and comply with copyright laws when it comes to using music in your episodes. Obtaining proper music licenses for your podcast protects you from potential legal issues and ensures that artists are rightfully compensated for their work. In this section, we will guide you through the music licensing process for podcasts, highlighting the steps and considerations to remember.
Importance of Obtaining Proper Music Licenses
Obtaining proper music licenses is essential for podcasters for several reasons. Firstly, it ensures you can legally use copyrighted music in your podcast. This helps you avoid copyright infringement claims, which can result in costly legal battles and damage your podcast's reputation.
Secondly, obtaining music licenses ensures that artists and copyright holders are compensated for their work. You support musicians and contribute to the music industry's growth by paying for the appropriate licenses.
The Manual Process to Acquiring Music Licenses for Podcast Use
The music licensing process for podcasts typically involves multiple steps and complexity commonly solved by copyright-free music for podcast platforms. Here are all the steps you'd need to follow if you decide to do it yourself:
Identify the songs you wish to use: Determine the tracks you want to include in your podcast episodes.
Research licensing options: Explore different licensing options available for podcast use, such as royalty-free music libraries, creative commons music, or specific copyright-free music platforms.
Contact copyright holders: If you decide to use copyrighted music, contact the respective copyright holders to inquire about licensing opportunities. This may involve getting record labels, music publishers, or individual artists.
Negotiate licensing terms: Once you have identified the copyright holders, negotiate the terms and conditions of the license. This may include discussing the duration of use, territory restrictions, and fees.
Sign the licensing agreement: Once the terms are agreed upon, sign a licensing agreement outlining the rights and permissions for using the music in your podcast.
Make necessary payments: Depending on the licensing agreement, you may need to make upfront or periodic royalty payments for using the copyrighted music in your podcast.
Potential Costs and Considerations with Licensing Copyrighted Music
It's important to note that licensing copyrightedmusic for podcasts can incur costs. The fees for using copyrighted music vary depending on factors such as the popularity of the track, its duration of use, and the size of your podcast audience.
Additionally, consider the potential restrictions imposed by the licensing agreements. Some licenses may limit the territories where you can distribute your Podcast, the number of episodes you can feature the music in, or the platforms on which you can publish your Podcast.
When budgeting for music licensing, ensure that you allocate sufficient funds to cover these potential costs and understand the limitations imposed by the licensing agreements.
Music subscription services like Thematic offer podcasters trending songs from real, independent music artists for their podcast episodes and theme songs.
With music safe for all social media platforms (from TikTok to Instagram to YouTube), podcast creators can easily share and cross-promote their latest episodes across all social media platforms without having to worry about copyright infringement or licensing issues. Thematic keeps it simple. Podcasters are set for a copyright-safe and claim-free experience when using Thematic to get copyright-free music for podcasts and social videos.
As you can see, purchasing a monthly subscription to a service platform to download copyright-free music for podcasts like Thematic provides great value as it saves you time from future legal and financial headaches for a fair price.
Best Practices for Using Background Music in Podcasts
Background music plays a crucial role in enhancing the overall podcast listening experience. It adds depth, emotion, and atmosphere to the content, making it more enjoyable and engaging for the audience.
When selecting background music for your podcast, it's essential to choose tracks that complement your topic, tone, and message. Consider the mood you want to create and the emotions you want to evoke. For example, a light-hearted comedy podcast might benefit from upbeat and cheerful tunes, while a mystery or horror podcast could benefit from darker and suspenseful tracks.
Respecting copyright regulations and only using copyright-free music for podcasts is important. Ensure your music is cleared for use and free from copyright restrictions in different media platforms.
When searching for copyright-free background music, look for platforms like Thematic that provide clear licensing information and usage terms. Ensure you read and understand the terms of use to avoid legal issues.
Even if music is copyright-free, giving credit to the creator is respectful and professional. This can be done by including a brief attribution in your podcast's show notes or mentioning the artist and track title during the episode.
By incorporating appropriate copyright-free background music in your podcasts, you can elevate the overall listening experience for your audience. So, take the time to select the right tracks, ensure they are copyright-free, and give credit where it's due. With the right background music, your podcasts will have a memorable impact on your listeners.
---
Discover some of our favorite copyright-free music for podcasts in our Top 10 Royalty-Free Songs for Podcasts list here or browse some of our curated podcast music playlists here.
If you're ready to level-up your podcast soundtrack with great royalty-free music and join a collaborative and thriving community of creators, sign-up for a free Thematic account today.
---
Looking for more creator tools and resources? Visit Thematic's Creator Toolkit for additional resources on creating content – including starting a YouTube channel, thumbnail and channel art templates, best practices, and of course, great royalty free songs to use in your videos for free with Thematic.
---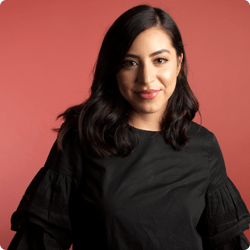 This guide to The Importance of Using Copyright-Free Music for Podcasts is brought to you by Thematic Director of Partnerships, Stephanie Leyva
Stephanie Leyva sits at the intersection of music artists and content creators. As the Director of Partnerships at Thematic, Stephanie has worked extensively with the artist and creator community on the site to ensure success digitally, on the platform, and support their initiatives.
Over the past few years, she has led numerous trending music-driven influencer marketing campaigns for "Glitter" and "Supalonely (feat. Gus Dapperton" by BENEE, "Loneliness for Love" by Lovelytheband, "Checklist (feat. Chromeo)" by MAX and so many more. She's worked alongside various labels such as Casablanca Records, Republic Records and Sony Music. Focused on empowering connections between content creators and music artists, Stephanie continues to lead the charge in innovative music discovery through social.
Stephanie is also the creator of the Bloom In Progress podcast – a podcast about personal growth, relationships and navigating life in your 20's.