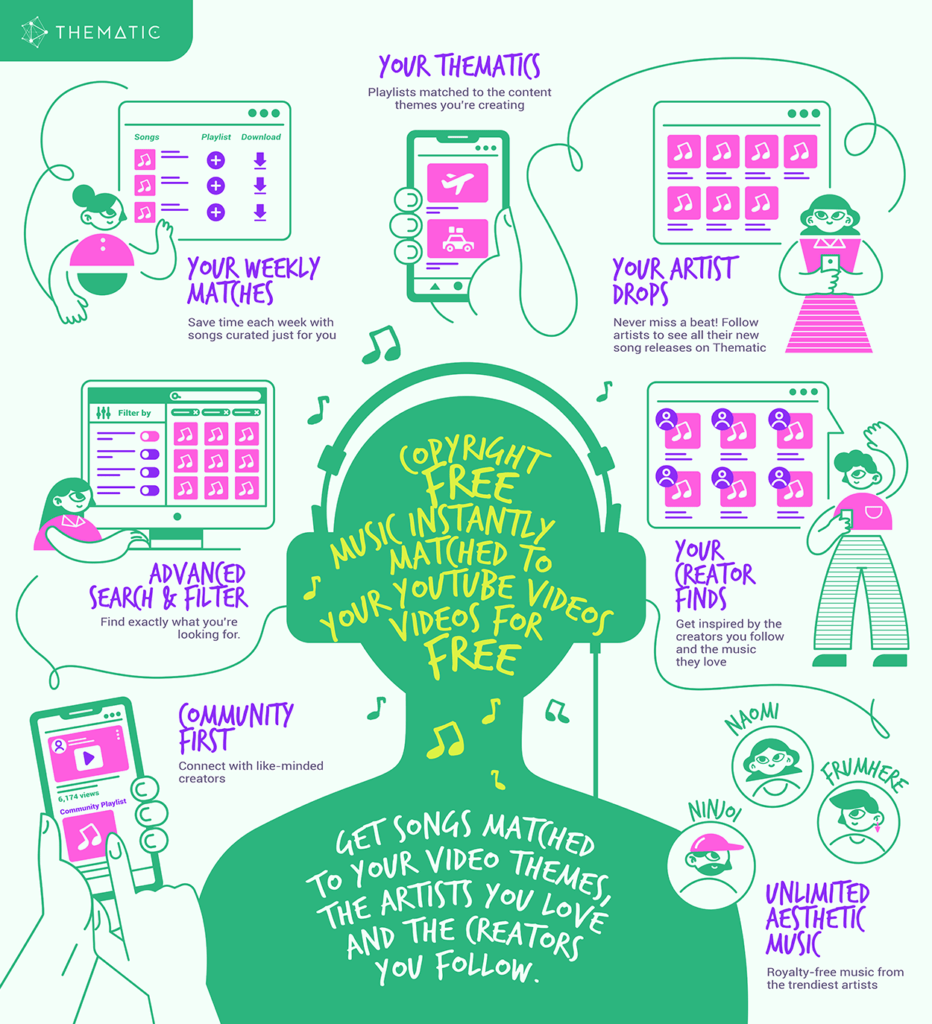 Today we launched an entirely supercharged, community-first experience of Thematic for content creators and music artists, including:
✔️ Weekly Matches & Thematics
✔️ Songs that fit your Aesthetic & Vibe
✔️ Your Artist Drops & Creator Finds
✔️ 100% New Search & Filter experience
✔️ Artist Dashboard 2.0
All of these features were designed to make it easier and faster for creators to find the right song for their video, while providing more transparency and enhanced analytics to empower the careers of independent artists.
Where to begin?
I suppose it starts with our original vision for Thematic. Our team always intended to create a destination where creatives can discover, connect, and support one another.
The first step in making this a reality was making it incredibly easy for music artists and content creators to collaborate through a first-of-its-kind community licensing model:
Creators find and license music from trending artists in exchange for song promotion.
And it works. Really well, actually.
To date, Thematic has supported 400k+ creators in sourcing quality music for their videos, while creating 11M+ new fans for music artists.
Now we're here to take the Thematic experience to the next level with integrated social connections and easier than ever music discovery. Through the feedback of our community and incredibly hard work of our team, we've spent the past few months building, testing, and perfecting a set of enhanced features to make this a reality.
And we're quite excited to share it with you today. Let's dive into the new experience 👇
Your Weekly Matches & Thematics
Behind the scenes, our team has been carefully studying and mapping the intersection of video themes and songs. We hoped to find a way to perfectly and instantly match songs to types of content. And today we debuted this for all creators on Thematic.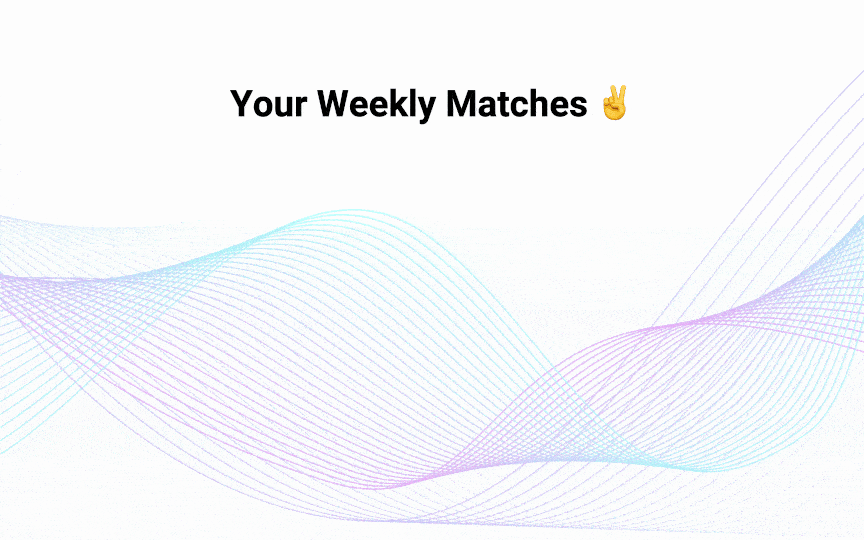 Each Friday, our proprietary curation algorithm will match a set of songs curated specifically to each creator. These Weekly Matches will reflect the creator's individual video themes and favorite types of music, and each creator will experience their own personalized mix.
On top of that, we'll provide creators with curated playlists based on their specific video themes. This will be shown on a section on their homepage appropriately titled: Your Thematics.
Your Aesthetic & Vibe
Our goal is to make it as simple and fast as possible for creators to discover songs that best match their personal aesthetic and vibe.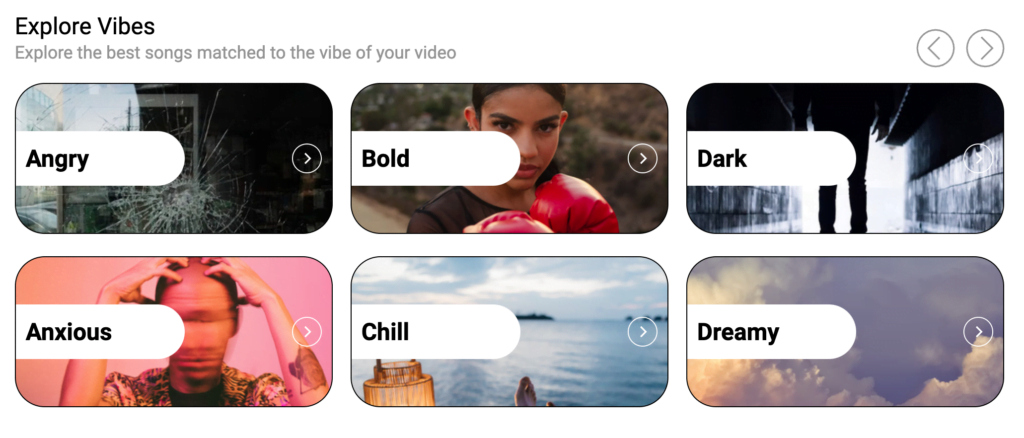 Building off our Weekly Matches section, we've added explorable categories of song Aesthetics and Vibes, where creators can dig-in to their personal preferences to discover songs best suited to their content.
Your Artist Drops & Creator Finds
In line with our vision of encouraging creative connections, we've added a follow option for all users on Thematic.

Now creators can follow their favorite artists and be the first to discover their latest song drops on Thematic. For artists, this amplifies their week-of-release promotion. Their newest songs are delivered instantly into the hands of their most engaged promoters.
One of our most-loved features from our community is the featured placement of user videos throughout the site. Many have told us that they get inspiration from these videos on what songs to use or what types of videos to create.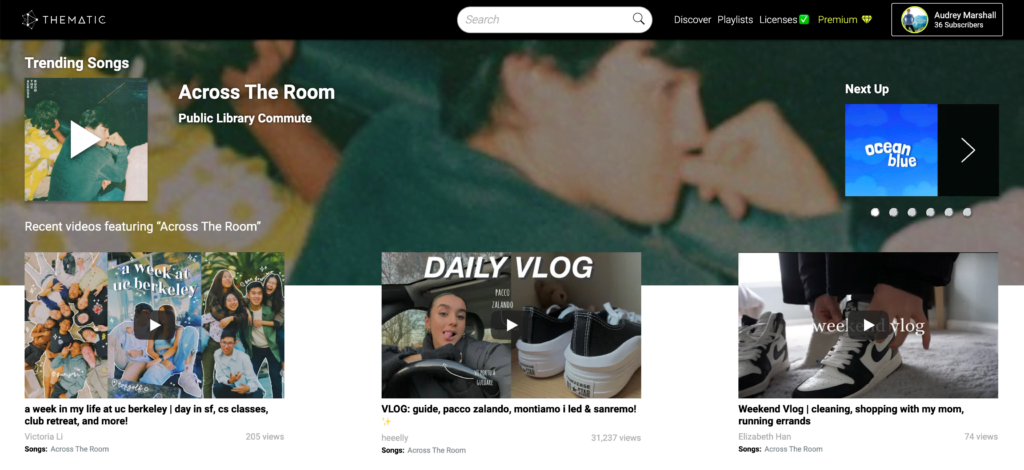 To further these moments of creative inspiration, creators can also now follow other creators on Thematic. When one of their favorite creators features a song in their videos, they'll be able to see which songs and artists they're using. This makes it much easier to discover the latest songs trending in their 'circle of influence.'
And for those users who aren't quite sure where to begin or who to follow, we've got them covered. We'll always have a personalized selection of like-minded creators & artists ready to discover.
100% New Search & Filter Experience
When building a product, there are always pieces that you don't quite get right the first time. For us, it was the search and filter experience for creators.
So after studying what works and hearing (loudly) from users that we had room for improvement, we pulled up our sleeves and dove in to create a better experience.
Starting today, creators can Discover not only songs, but curated playlists (from the Thematic team and other community members), similar creators, as well as recommended music artists as they browse the site.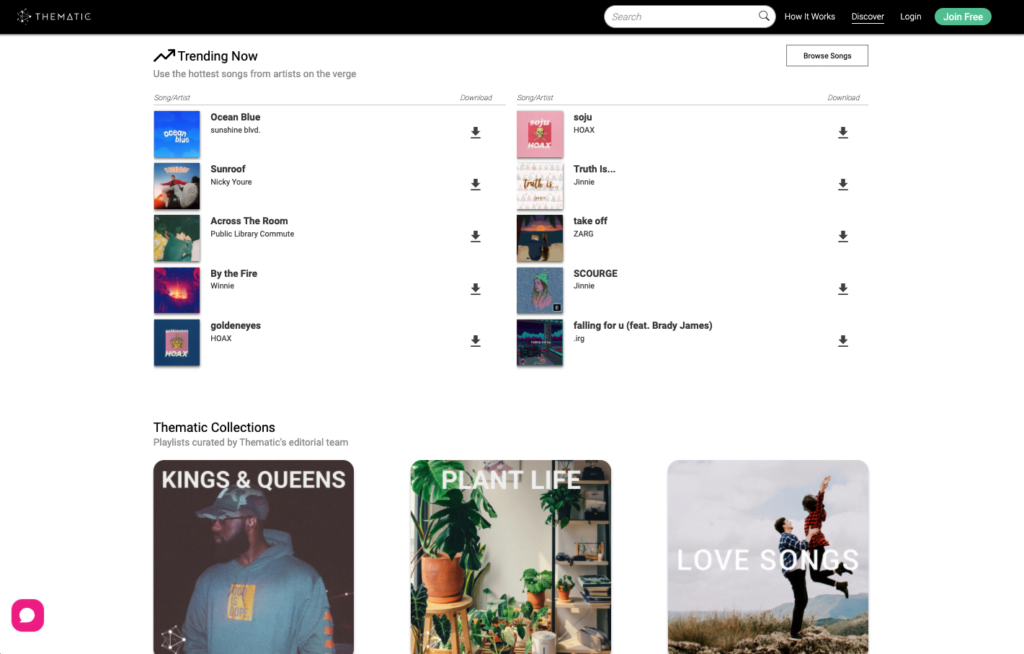 And if they're looking to dig in deep for something specific, don't worry, we've upgraded that, too. Our enhanced song filtering page (with 5+ new music categories to filter by), will take the creator right to that perfect song, in way less time. Finally.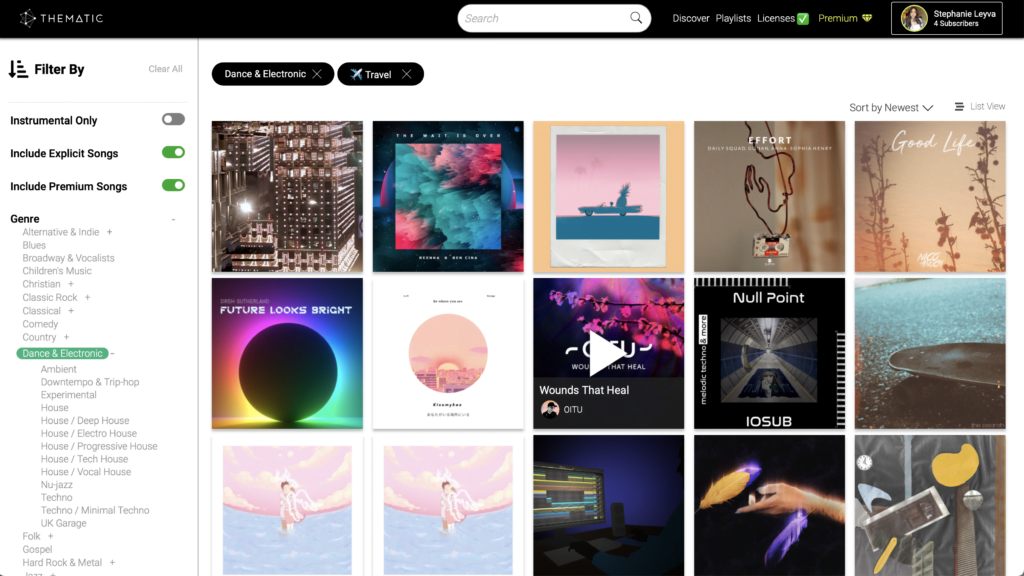 Artist Dashboard 2.0
This is a big one for us. Our artists have been patiently waiting for an upgraded dashboard experience. We're thrilled to be making that a reality for them today.
In addition to some basic upgrades of an overall cleaner look and feel, the new artist dashboard includes a ton of top asked-for features.
What we're really excited about is our new Campaign Performance Stats panel. We've always been transparent in providing artists with metrics around how their songs are performing and where they're being featured. But we knew we could make this even more valuable and actionable.

Each artist will have access to their own Campaign Performance Stats panel. This panel tracks their song campaigns and overall performance on Thematic and includes details such as:
The number of unique creators promoting their music
The number of placements of their songs in creator YouTube videos
The total amount of views from the videos featuring their music
The amount of new fans who have discovered their music through their Thematic song campaigns
The Earned Media Value received from Thematic and its creator network
We know that using influencer marketing platforms to promote music on YouTube is traditionally very costly, time-consuming, and many times does not return value for the artist. That's why we made Thematic a free marketing platform for independent music artists. Earned Media Value (EMV) is one of the metrics that helps us measure the value we are delivering.
This EMV represents an estimated cost that the artist would likely have to spend through paid marketing efforts to achieve the same exposure and engagement they are receiving organically through Thematic.
We've also added a full Promotion Stats dashboard for each artist, complete with tracking details of their latest song placements, performance stats on their most engaged-with songs, featured playlists where their songs are being included, the top creators who are promoting their music, and a shelf of their earned achievements and badges on Thematic.
Some other top-requested features that are available today for music artists include: better song management, ability to update their promotional song players instantly, and allowlisting of YouTube channels to prevent copyright claims on any channels where they've given direct permission.
Kind of awesome, right?
In addition to all of these new features, we've also migrated our front-end framework to Vue. This has allowed us to provide a thoroughly faster and cleaner user experience. It's feeling good 😎
Now it's time to get back to creating! We can't wait to see how our users engage with our new experience, the new creative connections they'll make from these new features, and what amazing new content they'll create as a result.
Special thanks and shout out to the Thematic community members who shared their feedback and supported us along the way.
As always, feel free to tag us @hellothematic to share what you're creating or your thoughts on the new experience!