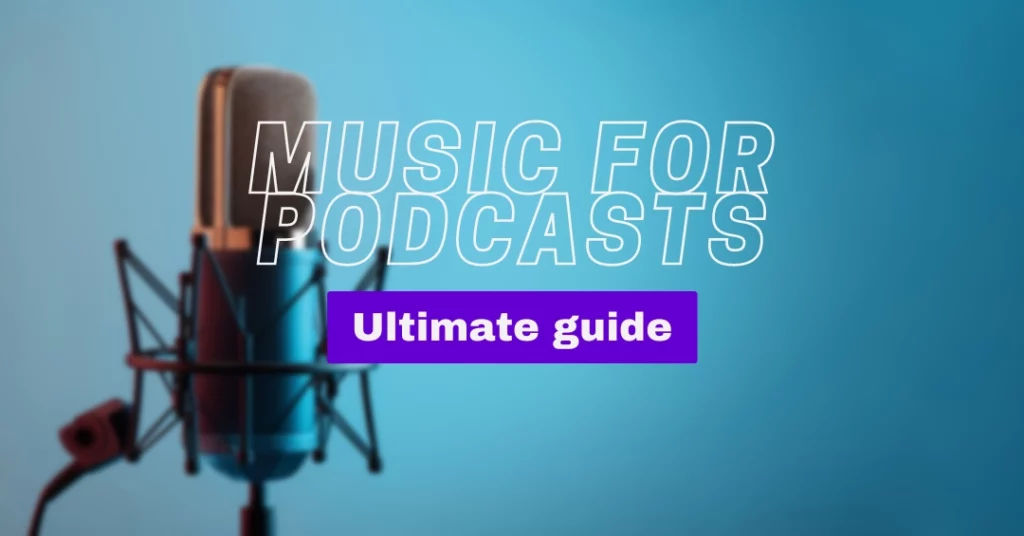 Whether you're just starting your podcast or you've been producing episodes for ages, you know that having top-tier audio quality is key to great content.
You also know that music is a powerful tool to set the tone and create a mood for your episodes and show, but finding the right track can be complicated and expensive. In this article, we'll explore the ins and outs of selecting the best music for podcasts episodes, including composition, licenses, and subscriptions.
Music for Podcasts FAQs:
Is background music good for podcasts?
Using background music in your podcasts is a great way to enhance the listening experience and set the overall tone or mood for your show.
Many podcast creators use music during intros, outros, and transitions for their episodes, which helps to establish consistent branding or a unique identity for the podcast.
Including background music during interviews, storytelling segments, or other speaking moments can also help to set an emotional backdrop or provide an overall ambience to the episode, filling in otherwise empty space
What type of music is best for background?
The choice of background music for podcasts ultimately depends on the tone, theme, and target audience of the podcast. Here are some general guidelines to consider:
Non-distracting
It's important to select background music that doesn't compete for attention with the content of your podcast episode. The music you select as background in your podcast should complement your spoken content and not distract your listeners.
Neutral genres
Typically, the best background music in podcasts is instrumental and doesn't have loud or jarring beats or instruments. Lo-fi, ambient, and chill tracks are some of the most popular genres of background music. Stick to songs that are generally neutral and soothing, but still set the right tone for your episode.
Mood-setting
Consider the mood you want to establish in your podcast when selecting your background music. If your podcast is upbeat and inspiring, you might opt for more lively and cheerful music. But if your show presents a more serious or contemplative tone, softer and introspective music may be a better fit.
✅ Pro Tip: Listen to a few different podcasts in your content vertical and really pay attention to the music they've selected. We'll bet that the music used in true crime podcasts sounds a bit different than the songs featured in self-help or interview podcasts!
Should my podcast have intro music?
Including intro music to your podcast episodes is a great way to establish a unique brand identity for your show and set the tone for your content.
Consider your podcast intro music as your own personal theme song. Including this same song with each episode intro brands the content. Consistent branding creates familiarity with your listeners so that anytime they hear that song, they'll think of your show.
Think about your favorite TV show theme song and you'll understand exactly what we mean.
✅ Pro Tip: Keep your podcast intro short and sweet, ideally no more than 15-25 seconds in length. Listeners want to get to the content they were promised in your podcast title, so don't keep them waiting too long (otherwise, they might just bounce to someone else's show).
Can I use royalty free music on podcast?
Yes, you can absolutely use royalty-free music in your podcast episodes. Royalty-free music is designed to be used in various creative projects, such as podcasts or YouTube videos, without the need for a creator to secure individual licenses or pay ongoing royalties. This is especially helpful for podcasters who like to use the same songs across multiple episodes.
Using royalty-free music allows podcasters to legally use music without infringing on copyright laws. However, it's important that creators always source music from reputable sources and understand the licensing terms so as to remain in compliance with any attribution or usage requirements.
Do I need to license music for podcasts?
It's important to get the necessary licenses for music when using copyrighted songs in your podcast episodes. Podcasters should get permission from the song rights holders before featuring any music in their content. Otherwise, they may be at risk of copyright infringement or lawsuits.
Thankfully, podcast creators have many resources available to source copyright-free and royalty-free music for podcasts and episodes. Sites such as Thematic or Free Music Archive provide copyright-safe songs from independent music artists for podcasters in exchange for song & artist promotion.
How do I get a theme song for my podcast?
Finding a theme song for your podcast doesn't have to be complicated or expensive. Here are a few ideas on how you can easily get a theme song for your podcast:
Compose your own song
If you're musically inclined, writing and recording your own podcast theme song may be the best option. Composing your own song gives you full creative control over the music and ensures that it's the perfect thematic fit for your content. It also eliminates any licensing or copyright issues, as you would own the content completely.
Hire a musician or composer
Consider hiring a musician or composer to create a custom theme song for your podcast. Many freelance musicians and composers are available on online platforms like Fiverr or Upwork and can work with you to create a unique and memorable theme song to align with your podcast's theme and mood. This can be a somewhat more expensive option, depending on the freelancer hired, but would provide you with a copyright-safe and fully branded song for your podcast theme song.
Use royalty-free music
As mentioned above, royalty-free music is a great solution for podcast creators looking for a great theme song. Using royalty-free music is a relatively inexpensive way for podcast creators to source quality music for podcasts and content as you would not need to pay out royalties for the songs used.
✅ Pro Tip: Always be aware of the licensing terms and agreements for the music sourced, as there may be some requirements for song or artist promotion or limitations when using the music.
Royalty-free music subscription services like Thematic offer podcasters trending songs from real, independent music artists for their podcast episodes and theme songs.
With music safe for all social media platforms (from TikTok to Instagram to YouTube), podcast creators can easily share and cross-promote their latest episodes across all social media platforms without having to worry about copyright infringement or licensing issues. We keep it simple. You're set for a copyright-safe and claim-free experience when using Thematic for your podcasts and social videos.
You can discover some of our favorite songs for podcasts in our Top 10 Royalty-Free Songs for Podcasts list here or browse some of our curated podcast music playlists here.
If you're ready to level-up your podcast soundtrack with great royalty-free music and join a collaborative and thriving community of creators, sign-up for a free Thematic account today.
---
In conclusion
As you can see, selecting the right music for podcasts is an important step in creating a successful show and doesn't have to be complicated or time-consuming.
Take some time to listen to different songs and consider how they fit with your content. Make sure you have the appropriate licenses and permission to use the music, and consider subscribing to a podcast music service for a wider range of options.
With the right music, you'll create a memorable audio experience for your listeners and take your podcast to the next level.
---
Looking for more creator tools and resources? Visit Thematic's Creator Toolkit for additional resources on creating content – including starting a YouTube channel, thumbnail and channel art templates, best practices, and of course, great royalty free songs to use in your videos for free with Thematic.
---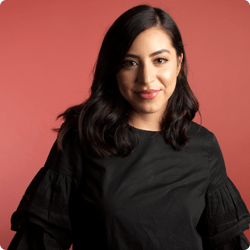 This guide to Music for Podcasts: Finding the Perfect Soundtrack for Your Episodes is brought to you by Thematic Director of Partnerships, Stephanie Leyva
Stephanie Leyva sits at the intersection of music artists and content creators. As the Director of Partnerships at Thematic, Stephanie has worked extensively with the artist and creator community on the site to ensure success digitally, on the platform, and support their initiatives.
Over the past few years, she has led numerous trending music-driven influencer marketing campaigns for "Glitter" and "Supalonely (feat. Gus Dapperton" by BENEE, "Loneliness for Love" by Lovelytheband, "Checklist (feat. Chromeo)" by MAX and so many more. She's worked alongside various labels such as Casablanca Records, Republic Records and Sony Music. Focused on empowering connections between content creators and music artists, Stephanie continues to lead the charge in innovative music discovery through social.
Stephanie is also the creator of the Bloom In Progress podcast – a podcast about personal growth, relationships and navigating life in your 20's.