Video creators have tons of great options to find music for YouTube videos. Many creators will try out one platform, then move to another in their search for the best music for YouTube videos.
Creator Laura Medley talks about the different sites she uses to find music for YouTube videos
Two of the most popular music platforms for YouTube creators are Thematic and Epidemic Sound. Both sites provide creators with music for YouTube videos, and as a result some might consider these two options as alternatives to each other.
Creators will find similarities between the two sites, including a selection of quality music for YouTube videos, an easy-to-use and copyright claim-free experience, and music options that are trusted by the biggest creators. However, there are some key differences to consider when evaluating the two platforms.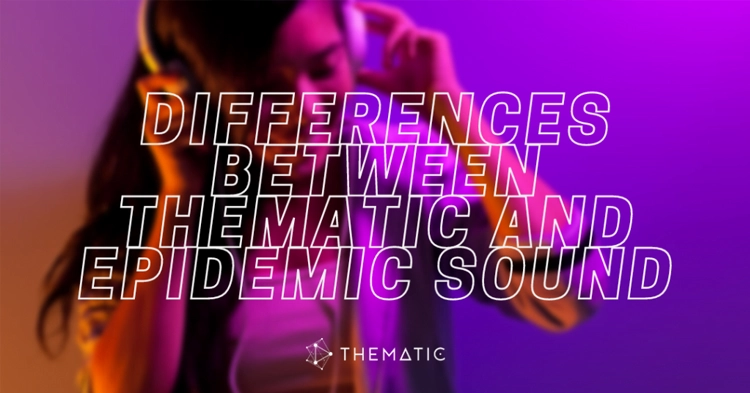 Best option for:
The Uniqueness of Thematic
Let's dive into the differences between Thematic and Epidemic Sound:
What is Thematic?
Thematic is a community-driven platform where creators can license trending songs from music artists in exchange for promotion. Creators can access unlimited royalty-free music and sound effects from Thematic to make their content creation easier.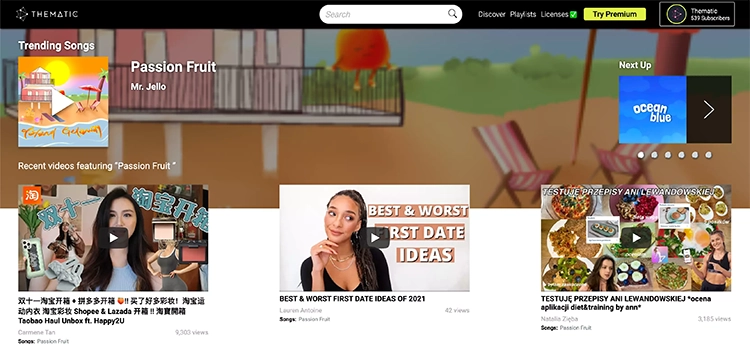 Thematic's mission is to bring creatives together and empower them to achieve their full potential through a fair, safe and collaborative exchange. Thematic believes that all content creators should have fair access to quality music for their videos.
Thematic has a freemium business model where all creators can use the music for free with unlimited downloads. The paid Premium tier (starting at $7.99/month) unlocks additional songs and features. The music from Thematic can be used in YouTube and Instagram videos.
The music from Thematic is from trending, independent music artists. These are real music artists you can find on Instagram and TikTok who are looking to get their songs discovered by new audiences.
Some of the artists featured on Thematic have gone on to have massively successful careers, including: Fiji Blue (who signed to Virgin Records), Nicky Youre (whose song "Sunroof" was the top trending song on TikTok), EVAN GIIA (who signed to Astralwerks), and JP Saxe (who was nominated for a Grammy and signed to Arista).
Thematic is a marketing engine and launching pad for the next big thing in music. Creators using the music from Thematic get the opportunity to use the music from these artists and be part of their success story.
What is Epidemic Sound?
Epidemic Sound is a production music library providing royalty free background music and sound effects for videos. Creators get unlimited downloads of the music and SFX when using the Epidemic sound library.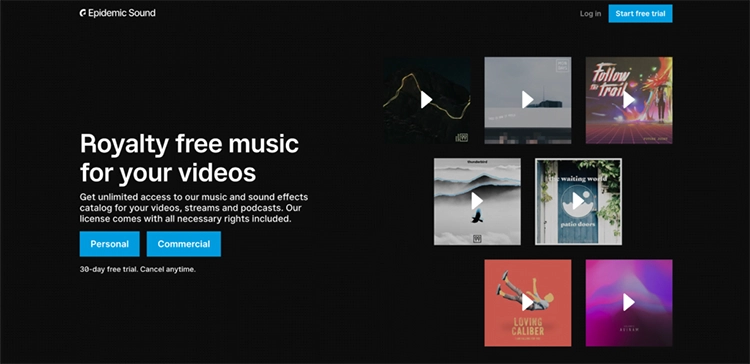 Epidemic's mission is to empower creativity and soundtrack the world. They aim to enrich the creative process and enable creators to elevate their content through the music and SFX.
Epidemic Sound has a subscription business model (starting at $9/month for social platforms). Their subscription plans have a free trial period, but there is no free plan option. The music from Epidemic can be used on a variety of web platforms, depending on the tier selected.
The music available on Epidemic Sound is from a variety of composers, production music artists, and independent music artists. Some of the artists on Epidemic are actual artists you might find on Instagram, and some of the artists are pseudonyms (groups of works from composers under different, made-up artist names).
Both Thematic and Epidemic Sound specialize in providing royalty-free music for video creators.
Music for established creators
On both sites, serious content creators and video creators with established audiences can find great music options for their videos. Each site has a subscription option available for creators who are looking for the widest selection of songs for all of their video needs.
For example, on both Thematic and Epidemic's music subscription plans, creators can clear music for multiple YouTube channels and clear music for a client's account. On Thematic's Premium subscription, established creators can also invite their video editors to help find music for their channel (without sharing login info). On Epidemic's Commercial subscription, creators can clear the music for additional online platforms, like personal websites.
Music for new creators
For creators just getting started, though, Thematic provides the best option as it has a free plan.
Thematic allows any creator, even if they're making their very first video, to get access to high quality music for their videos for free. Creators no longer need to wait to get a lot of subscribers or to become eligible for video monetization to get access to the best music for YouTube videos. They can use Thematic from day one to start making amazing videos with great music from real independent artists.
Is Thematic better than Epidemic Sound Music?
For Video Creators
Both Thematic and Epidemic Sound are designed to help creators elevate their content and produce great videos. Creators can find quality royalty-free music for YouTube videos and sound effects on both platforms.
Music Selection
Thematic's music selection is curated and matched to each creator based on their personal aesthetic, video content, and favorite types of music.
Creators on Thematic get curated Weekly Matches every Friday and their own personalized mix of songs and curated playlists matched to the creator's aesthetic. This ensures a fast and easy way for creators to find the perfect song to enhance their video.
Epidemic has a large music library that creators can browse and filter through. They have over 35,000 songs that creators can search to find a song that fits their YouTube video.
Epidemic Music provides playlists for creators that match different genres and moods. Creators can explore these different playlists by clicking through their featured pages and finding a playlist they enjoy.
Song Filters
When searching on both Thematic and Epidemic, creators can use song filters to find specific songs for their videos. Both platforms allow creators to search by keyword and filter by mood or vibe, genre, instrumental only, song duration, and BPM. Thematic also allows creators to filter by the video keyword, song energy, featured instrument, explicit songs, vocal types, and song key.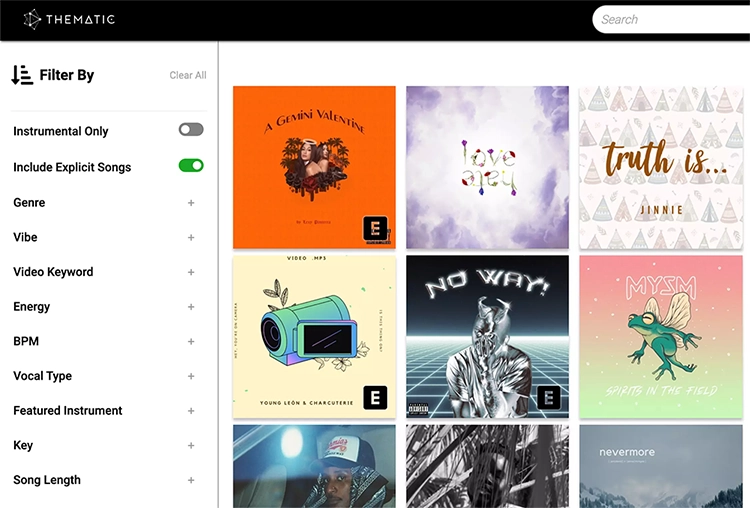 Epidemic's search results include sound effects, songs, and editorial playlists. Thematic's search results include songs, editorial playlists, playlists from the community, music artists, and other creators using the site.
Thematic and Epidemic Together
Often, creators use both platforms to soundtrack their videos. For example, a creator will use a hot new song from Thematic in their video intro and montages to set the vibe of their video, then feature Epidemic music in other parts of their video, like during voiceovers.
Below is a great example from creator Yoora Jung. The song featured during her video intro ("Pretty Blue Jeans & Me" by nodisco.) is a perfect fit for Yoora's aesthetic and helps to capture the viewers' attention. The song from Epidemic Sound played later (during the car part of the video at 2:50) was a great chill background song to keep the video flowing. Check it out here:
As you can see in Yoora's video, the music from Thematic helped to set the overall tone and feeling of the video (which is key to making videos successful and growing a YouTube audience).
---
We find that Thematic and Epidemic are complementary music solutions for creators. While Thematic has more aesthetic and trending music from real artists and songs you'll want to add to your Spotify playlists, Epidemic Sound has a ton of options for background music and sfx.
As a result, many serious content creators tend to use both platforms to provide the perfect soundtrack for their YouTube videos. However, Thematic provides the best option for creators just starting out as they can start using trending music without a paid subscription.
For Musicians and Music Artists
Thematic and Epidemic Sound provide different values for music artists. Let's break it down.
Thematic
Thematic provides independent music artists with song promotion and influencer marketing for their music. Thematic offers music artists a way to get their music discovered by new audiences – driving new fans, more Spotify streams, and higher social engagement. It is completely free for music artists to launch a song campaign to Thematic.
What value and royalties do musicians receive on Thematic?
The creators using music from Thematic are required to promote the song and artist in their videos.
Thematic provides their music artists with a full performance dashboard of how and where their music is being featured on YouTube, including Earned Media Value (the estimated cost that the artist would likely have to spend through paid marketing efforts to achieve the same exposure and engagement they are receiving organically through Thematic).

The music artist keeps full control and ownership of their music and can opt their songs out at any time. Thematic admins the songs in YouTube Content ID while the music is available on Thematic and pays out 80% of all collected revenues to the music artist. Thematic does not take any of the music artist's streaming royalties.
Epidemic Sound
Epidemic Sound provides composers and music artists with a way to sell their music for an upfront fee. Epidemic purchases songs from music artists for an agreed-upon amount. As a result, Epidemic fully owns the music on its site and controls the exclusive rights to the music. The music by Epidemic Sound is owned by Epidemic Sound (not the artists).
What value and royalties do musicians receive on Epidemic Sound?
The creators using Epidemic music licensing are not required to promote the song or artist in their videos.
Epidemic pays out 50% of the collected streaming revenue from the songs with the music artist.
---
| Features | Epidemic Sound | Thematic |
| --- | --- | --- |
| Song Promotion | Not required | Creators are required to promote the music and artist ✅ |
| Song Ownership | Epidemic owns the songs (purchases it from the artist) | Music artists keep 100% ownership of their music ✅ |
| Song Royalties | 50/50 split between the artist and Epidemic | Music artists keep 100% ownership of their streaming royalties ✅ |
| Content ID Earnings | 50/50 split between the artist and Epidemic | Music artists keep 80% of their YouTube earnings ✅ |
Comparison chart of the benefits for musicians and music artists
As you can see, there is a clear difference of value for the music artist when looking at the two platforms. Music artists who are looking to grow their fans and take their career to the next level, while also monetizing their copyrights, would find most success on Thematic. Music artists or composers who are looking to sell their music copyrights in exchange for royalties should consider making music for Epidemic Sound.
The Uniqueness of Thematic
Creator-First
Thematic is the only music licensing platform that was developed by a YouTube creator. Co-founded by the premier beauty influencer and entrepreneur, Michelle Phan, Thematic was built to solve the issue of connecting music artists and creators from a creator-first perspective.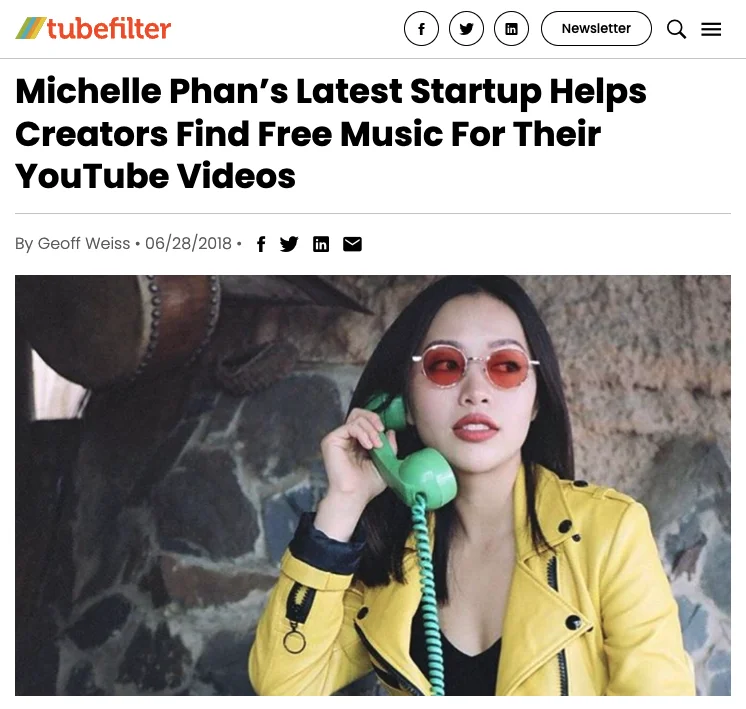 Other music licensing platforms, like Epidemic, were created by music industry executives or songwriters.
Aesthetic Music
Many creators find Thematic to be the best site to get aesthetic music for YouTube videos.
Aesthetic music has a chill, relaxing vibe that is the perfect complement for creative activities, such as cleaning, painting, drawing, studying, or just relaxing.
Michelle Phan helped drive the popularity of aesthetic music when she launched her 24/7 Magic Hour Radio playlist in summer 2019. This playlist featured songs and artists from Thematic that embodied the aesthetic vibe, including artists such as Fiji Blue, Ashton Edminster, ninjoi, and VALNTN, to name a few.
Aesthetics have only grown in popularity since then. It is defined as "the thematic expression of visual and musical tastes as a representation of self" and today there are aesthetics to match everyone's personal vibe – from Y2K and Baddie to Cottagecore and Vaporwave.
Thematic has always made it easy for creators to soundtrack their personal aesthetic and create aesthetic YouTube videos – by matching music to your personal style and vibe. In fact, Thematic provides a quiz for creators to find your aesthetic. Creators can discover their music aesthetic in five easy question to get matched to their perfect music playlist (which they can then use in their YouTube videos)!
Community
One of the things that creators love most about using Thematic is the creative community. Thematic helps to connect the creators and music artists in a collaborative way.
For example, Thematic features YouTube videos from its creators throughout the site. Many creators like to watch these videos to see what songs to use or what types of videos to create.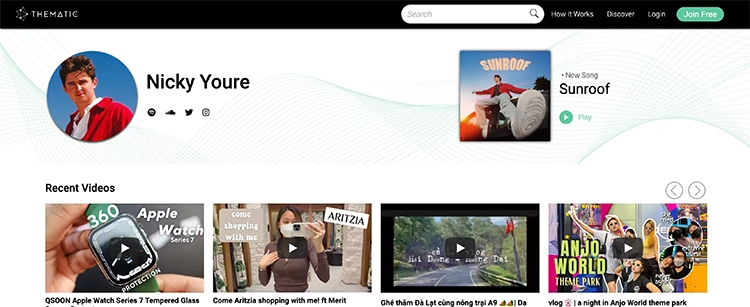 Creators can also follow other creators and music artists on Thematic. This allows a creator to see all of the songs their favorite influencers feature in their YouTube videos. Likewise, they can see the latest songs from their favorite music artists.
The creators and music artists have public profiles on Thematic. These profiles feature popular songs, creator achievements, other creators, and shared music playlists. You can also easily find links to the creators and artists across social media. This makes it easy to follow and support your favorite artists everywhere.
Also, Thematic has a private community discord where the creators and music artists on the site can connect directly and collaborate. Some of the music artists have ended up working on new music together and meeting up in person because of their connection in this community.
Epidemic Sound FAQs
Let's answer some of the most frequently asked questions about Epidemic Sound!
Can I use Epidemic Sound for free?
Epidemic Sound does not have a free plan available for creators. Their personal subscription plans start at $9/month (when billed annually) and they may offer a free trial for these plans (although it is not guaranteed).
Is Epidemic Sound worth it?
Epidemic Sound is one of many providers for royalty free music for videos, so it really depends on what you're looking for. If using popular music from real or trending artists is not a priority or if you need tons of regular background music for all of your videos, Epidemic Sound may be worth it for your needs. Their subscription plans are relatively inexpensive (starting at $9/month for social media platforms) and they provide many tracks for creators.
However, if you would like more of a curated library with trending songs, or if you need free music for videos, Epidemic Sound may not be worth it. We recommend considering all of the royalty free music options available to you before making a decision.
Is Epidemic Sound legal?
Yes! Epidemic Sound is a legal way to get royalty free music for videos. They are a trusted company and provide creators with different subscriptions to get music for videos. Creators will just want to make sure that they are on the appropriate subscription to make sure they are in compliance with Epidemic's terms of service and licensing regulations.
What is Epidemic Sound used for?
Epidemic Sound is used by creators, freelancers, agencies, and businesses to get royalty free music for videos and podcasts. They provide songs and sound effects (SFX) that can be used in both personal or commercial video projects (based on your subscription type) across social media and online platforms (like podcasts or company websites).
---
We hope you found this guide to the differences between Thematic and Epidemic Sound helpful. As you can see in our comparison of the two platforms, creators can find value from both platforms in different ways and both provide creators with great music for YouTube videos.
Ready to get started with Thematic? Sign-up for Thematic to find free music for YouTube videos below:
Looking for more creator tools and resources? Visit Thematic's Creator Toolkit for additional resources on creating content – including starting a YouTube channel, thumbnail and channel art templates, best practices, and of course, great royalty free songs to use in your videos for free with Thematic.