Looking for the best free tools for YouTube creators? Or the best free tools to get started on YouTube 👀? You've come to the right place!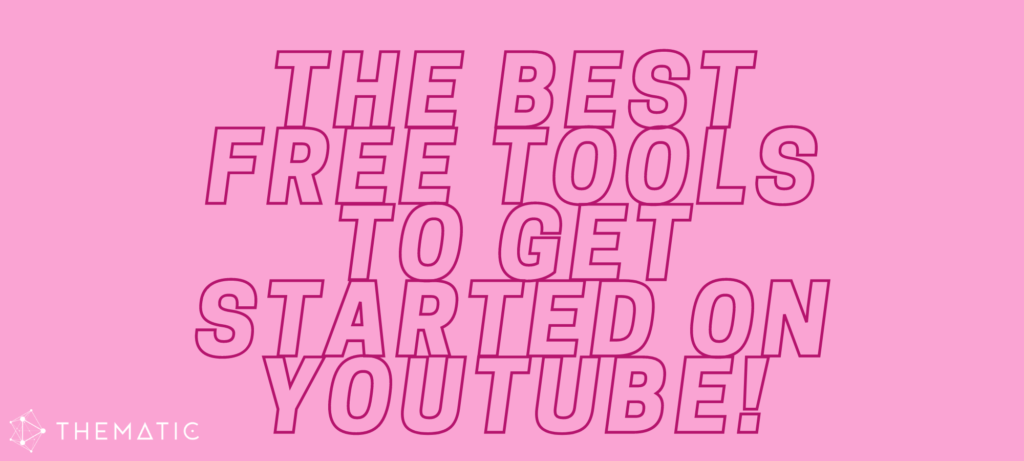 When starting out on YouTube, the hardest part is getting traction. It takes views to get more views, and it's hard to worry about putting out great content when you have to worry about managing your channel at the same time.
That's why we've curated a list of some of the best free tools for YouTube to help you build your YouTube channel. The best part? They are all free. 😎
Let's get started!
Canva
Canva is one of our favorite free photo and design editing tools out there. It's an all-in-one design solution for creating all types of visual assets – like your YouTube thumbnails, Instagram stories, YouTube channel art, social media posts, and so much more!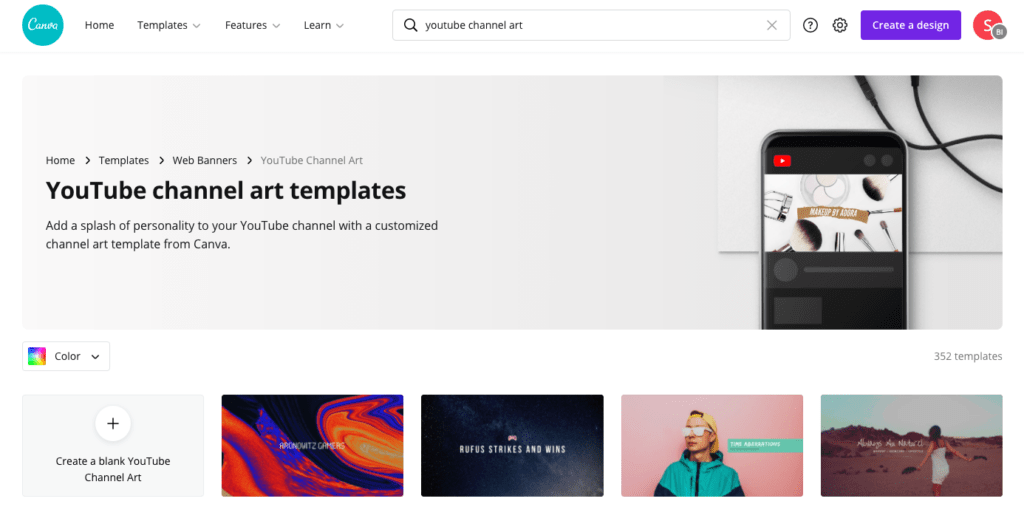 Whether you need it for your YouTube channel or your other social media accounts, it's the perfect design tool for all types of content creators, even if you're just starting out!
For example, YouTube thumbnails are the very first thing viewers see when deciding if they want to watch your video or not. That's why it's super important to have a well-designed thumbnail that also reflects your video content. Think about it – would you want to watch a video with a thumbnail that looks boring?
With Canva, designing YouTube thumbnails is super easy!
Creator Marielou Mandl shows how to easily create great YouTube thumbnails using Canva
You can easily add color, texts, upload your own images, and use their free graphics to create a visually appealing thumbnail for your YouTube video. In addition, they even provide the file templates and dimensions so that your thumbnails and art are all the right size. Pretty awesome, right?
One of our favorite features of Canva is the ability to set your color palette or brand colors. This allows you to save and access your favorite and most-used colors across all of your designs! When you do this, it helps to build a consistent brand identity as a creator.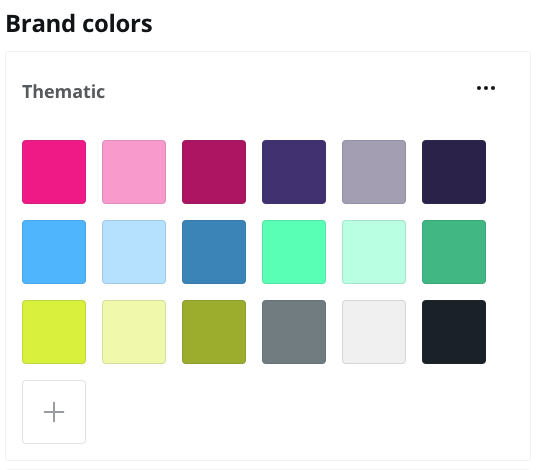 In short, Canva provides YouTube creators with a ton of great design templates and features that will help you take your YouTube channel to the next level. And the fact that it is free, makes it even better.
YouTube Studio App
The free (and official) YouTube Studio mobile app is one of our favorite ways to check-in and manage your YouTube channel and videos while on-the-go.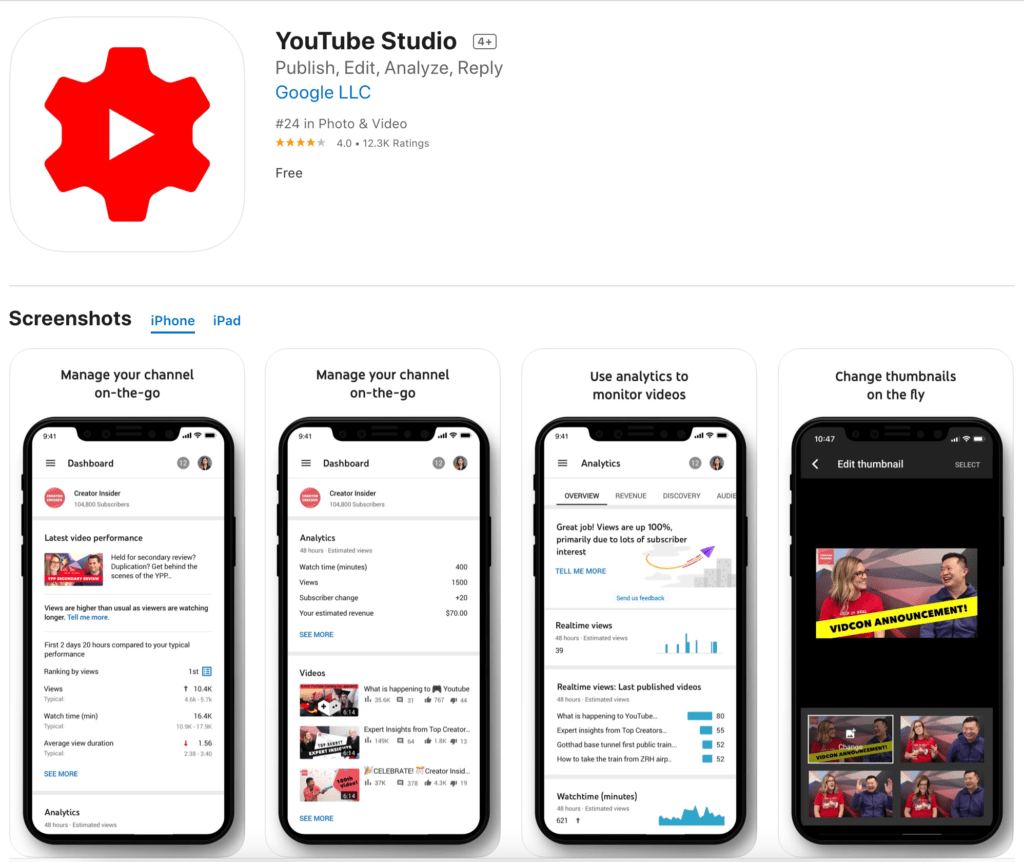 YouTube Studio provides so many great channel management features that you can do all from your phone. For content creators who are constantly traveling or out shooting content, having to look for a desktop or laptop just to check-in on your channel can be quite frustrating.
Uploading time-sensitive content is also a pain when you shoot your video somewhere remote, and then you have to travel all the way home just to even get started. Not fun.
In the YouTube Studio app, all creators can respond to their latest comments, see how their videos are performing, edit your thumbnails and description, check on your channel analytics, upload and schedule new videos, and get notifications so you don't miss a beat! Can it get any better?
Watch YouTube's official tutorial video on how to use the YouTube Studio Mobile App
Basically, all of the important management tools for your channel are accessible from YouTube Studio.
So whenever you're out or on-the-go, you no longer have to worry about leaving your channel behind. Bring it with you by downloading the free YouTube Studio mobile app – a must-have free tool for all YouTube creators. Download it on Apple or Google Play app stores now.
vidIQ Chrome Extension
The vidIQ Chrome browser extension is our go-to free creator tool for optimizing your YouTube videos.
We use the vidIQ extension all the time when researching new video ideas and optimizing our latest video content.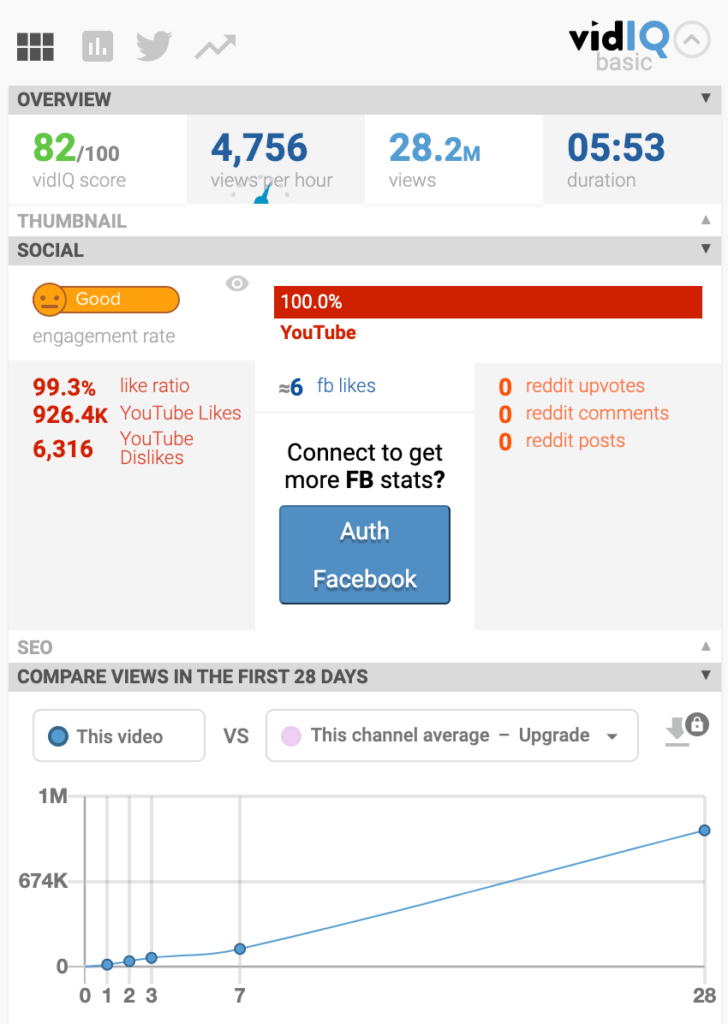 The extension integrates directly with YouTube so you can see fast facts about any video, such as the like ratio, top video and channel keywords, and overall video performance. vidIQ helps you discover the secrets to success behind your favorite YouTube channels and videos. And it's totally free!
Not sure how to best optimize your tags and keywords to boost your YouTube views and search ranking? One of our favorite features of the vidIQ Chrome extension are the suggested keywords when uploading your videos or optimizing your playlists. Including better keywords in your video metadata will help increase your rank and discovery on YouTube, so what are you waiting for?
Placeit
If you're looking for a platform where you can create all your branding designs, Placeit is a great tool! With more than 50K templates and a growing library of designs made by professionals each day, you can create eye-catching images. Make everything from logos and videos to your social campaign with branded images in minutes.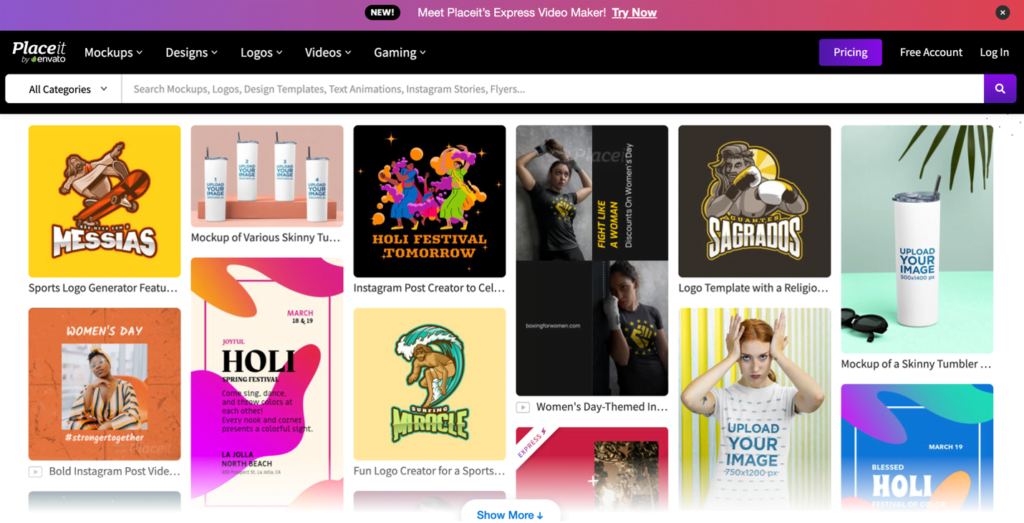 Just select your favorite video template, customize your text, change the color of backgrounds and shapes, and add your images or video clips. Customize your text, change the color of backgrounds and shapes, and add your images or video clips.
All their videos are made by a professional team, so you can rely on them being eye-catching templates for your campaigns. Once you have customized your template, simply click the download button.
Some of our favorite features are:
Unlimited downloads. Keep creating, you get to have the unlimited downloads you need for your brand.
Fonts and audio selection. You can also customize the playback speed and quantity of slides to make a short or long video.
New templates every day. Designers are always in the loop for trends and they create beautiful assets every day.
Easy-to-use. You can create tons of designs, arts, videos, demos, Instagram stories, and social media marketing assets with no technical skills.
Professional graphics. All graphics are made by a professional team, so you can rely on them being eye-catching templates for your campaigns.
Why we love Placeit:
Wide range of graphic libraries.
You can choose between tons of videos formats for your marketing arsenal.
Constant updates of the graphics and the tools
Free tools available for everyone
High-resolution graphics
It's free to get started on their Basic plan, or you can upgrade to their Unlimited plan to access it all!
Kapwing
Kapwing is a free platform to help you create videos, images, GIFs, and memes.
It's OK if you are just getting started with creating and editing videos, because Kapwing makes it super easy for any creator to use. Everything is drag-and-drop, so you can assemble your video with clips, images, and GIFs in just a few clicks. It's really that simple!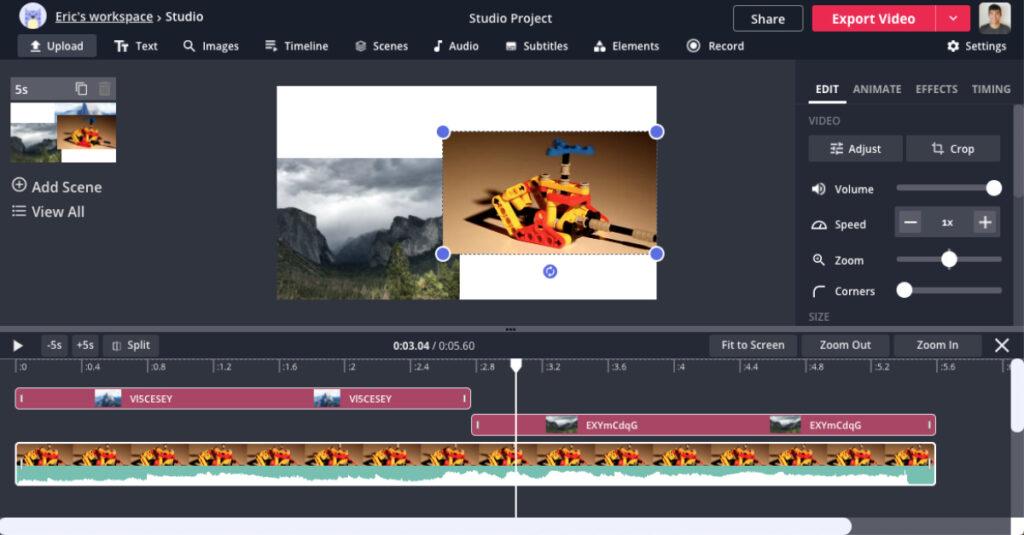 Since Kapwing is fully browser-based, you don't need to download any additional software. That makes it great when you are working across multiple devices, since all your files are synced automatically in your Kapwing account. Above all, it works on every OS, on your phone and your computer.
One of our favorite features of the Kapwing video editor is their integrated subtitling solution!
Adding subtitles is a great way to optimize your video and provide additional viewing options for viewers of different languages. But it can be a pain to always have to type up your video's script after you're done editing. Thankfully, Kapwing makes it easy to automatically add subtitles to your video!
Subtitles are created automatically in Kapwing and they help you perfectly match it to the audio in your video. This feature allows you to subtitle your video in half the time. Amazing!
That, along with a ton of their other features, is why Kapwing is one of our most used video editing solutions. It's really easy to use and free to get started.
Learn how to use the Kapwing Video Editor create awesome videos
Thematic
To really make your videos stand out and give them that professional shine, you will want to make sure your video has some awesome music.
No matter the kind of videos you create, great music will make your videos pop and more exciting to watch.
So if you are a YouTube creator struggling to look for music, Thematic is the perfect solution for you.
Creator EMT shows you how to use Thematic to get free music to use in your YouTube videos
Thematic offers an entire selection of royalty free music for you to use in your videos for free. Yes you heard that right – it's free!
You can use the music from Thematic forever, worldwide, and no matter how many (or few) followers you have. In addition, you can even use the music in sponsored or branded content with no problems!
For those of you who have a hard time finding good music that matches your video, that's not a problem. Thematic curates music by content type and theme, so you'll spend less time searching for that perfect song and more time creating.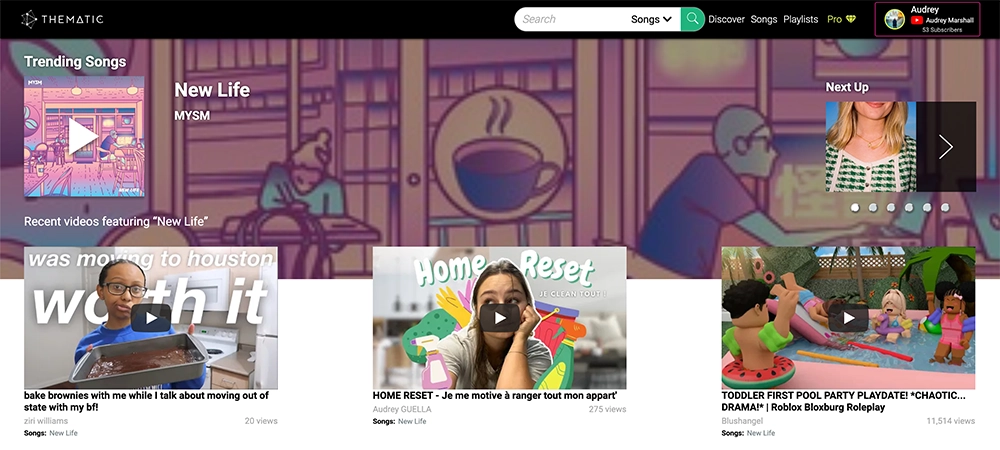 Whether you need intro music, outro music, or even just background music, Thematic's massive music selection has you covered.
As a content creator, you already have plenty of things to worry about, like content quality, viewer count, insights, and growing your channel. With Thematic, you get to use a wide selection of songs from the best new music artists. Above all, you no longer have to worry about copyright claims, disputes, or strikes against your videos.
The best part is, creating an account on Thematic is totally free and you get to keep 100% of your ad revenue with our claim-free experience. If all this has gotten you interested in creating video content with some great music, get started today! It's simple 💪
These free tools for YouTube are all you need to get started
To sum up, these creator tools are the best free tools for YouTube and they are all you need to launch your YouTube channel started. As we said, getting those first couple thousand subscribers is one of the most difficult things in your journey.
Thankfully, all of the tools we talked about, from graphics creation to analytics to free music, make it super easy to start a YouTube channel and help it grow.
Looking for more free creator tools and resources? Visit Thematic's Creator Toolkit for additional resources on creating content – including thumbnail and channel art templates, best practices, and of course, great royalty free songs to use in your videos for free with Thematic.
So, good luck on your YouTube journey! We can't wait to see what you create!